A day before the start of the competition, FC Barcelona has still not registered new players such as Robert Lewandowski and Raphinha. As in previous years, money is the big problem at the ailing club. In the search for millions, chairman Joan Laporta ended up with Frenkie de Jong, resulting in a controversial transfer soap. This is how things work.
Bayern Munich coach Julian Nagelsmann couldn't understand at the end of july that his top striker Robert Lewandowski transferred to FC Barcelona for a transfer fee of 45 million. "Barcelona is the only club in the world that has no money, but can still buy any player. That's weird and a little crazy? I don't understand how they do that."
FC Barcelona was the best club in the world in the last decade and enchanted the football world with players like Lionel Messi, Xavi and Iniesta, but little of that reputation is left. Especially financially Barça plunged into a deep pit.
Due to mismanagement and the corona crisis, the debt has risen to 1.35 billion euros, it was announced last year. Laporta then called FC Barcelona "clinically dead". The misery led to the departure of star player Messi last year.
Yet FC Barcelona spent no less than 153 million euros this summer for three new players. Lewandowski (45 million euros), Rapinha (58 million euros) and Jules Koundé (50 million euros) were presented with great fanfare in Camp Nou.
Of all the clubs in the world, only Chelsea spent more on the transfer market: 186 million euros. Laporta wants to pull FC Barcelona out of the swamp with investments, just like he did in his first period (2003-2010) at the club. According to the president, Barcelona was released from hospital after the arrival of Lewandowski after "a stay in intensive care". But how can he spend money when Barcelona has such a high debt?
New Barcelona players in summer 2022
Raphina (Leeds United) – 58 million euros Jules Koundé (Seville) – 50 million euros Robert Lewandowski (Bayern) – 45 million euros Franck Kessié (AC Milan) – free transfer Andreas Christensen (Chelsea) – free transfer
President Joan Laporta presented Robert Lewandowski at Camp Nou last week.
President Joan Laporta presented Robert Lewandowski at Camp Nou last week.
Photo: AFP
Since his arrival in March last year, Laporta has not only carried out a major cutback by means ofhe pulled all kinds of financial tricks to rake in millions. First, he took out a loan of 500 million euros with the American investment bank Goldman Sachs to be able to pay off the debts over a longer period.
Laporta then provided additional income. First of all, he found a new main sponsor in Spotify. The Swedish streaming service will pay no less than 280 million euros to the club over three years. The company also became the namesake of Camp Nou.
In addition, for the next 25 years, Laporta sold a quarter of the television rights to an American investment company and also a quarter of the shares of the audiovisual studio Barça Studios. As a result, an additional 700 million euros have reportedly flowed into the club coffers in recent weeks.
But even with this proceeds FC Barcelona can the expensive newcomers Lewandowski, Raphinha and Koundé, the transfer-free Andreas Christensen and Franck Kessié and the longer stayed Ousmane Dembélé and Sergi Roberto do not register with the league management of La Liga.
Joan Laporta threatens a lawsuit against Frenkie de Jong.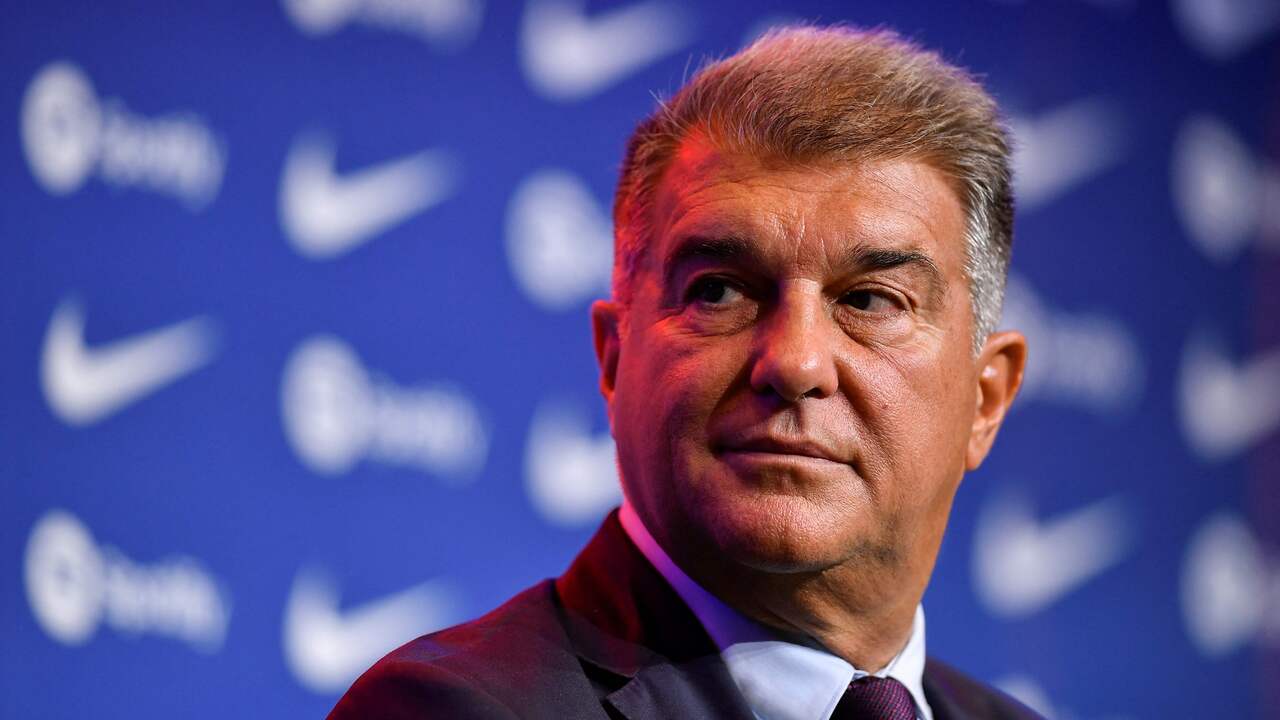 Joan Laporta threatens a lawsuit against Frenkie de Jong.
Photo: AFP
That has everything to do with the Financial Fair Play system in Spain: A spending limit is imposed on each club, which is calculated based on the club's income and expenses. The transfer fees and salaries of the new players must be paid from that money. Prior to the transfer summer, it was set at -144 million euros for FC Barcelona.
That meant Barcelona had to sell players and generate more income first to get rid of the red numbers at La Liga. It was therefore the only professional club in Spain that had a negative spending limit.
It marked an unprecedented downturn for FC Barcelona. In the season before the corona pandemic, the club was still able to spend 670 million euros on the transfer market, making Barça the leader in La Liga. Real Madrid is now the club with the highest spending limit in Spain: 739 million euros.
FC Barcelona not only made room by tapping additional sources of money, but also by selling or letting go some expensive players, including Philippe Coutinho, Clément Lenglet and Dani Alves. Now, according to the Spanish radio station, FC Barcelona Cadena SER still have to find about 30 to 40 million euros to be able to register all new players at La Liga.
In the search for those millions, Laporta ended up with De Jong. With an annual salary of 18 million euros, the Dutchman is currently the highest-earning player of FC Barcelona and therefore the first candidate for a wage sacrifice.
La Liga spending limits for summer 2022
1. Real Madrid – 739 million euros 2. Sevilla – 199 million euros 3. Atlético Madrid – 161 million euros 4. Villarreal – 148 million euros 20. FC Barcelona – -144 million euros
Frenkie de Jong is said to be furious about FC Barcelona's behavior.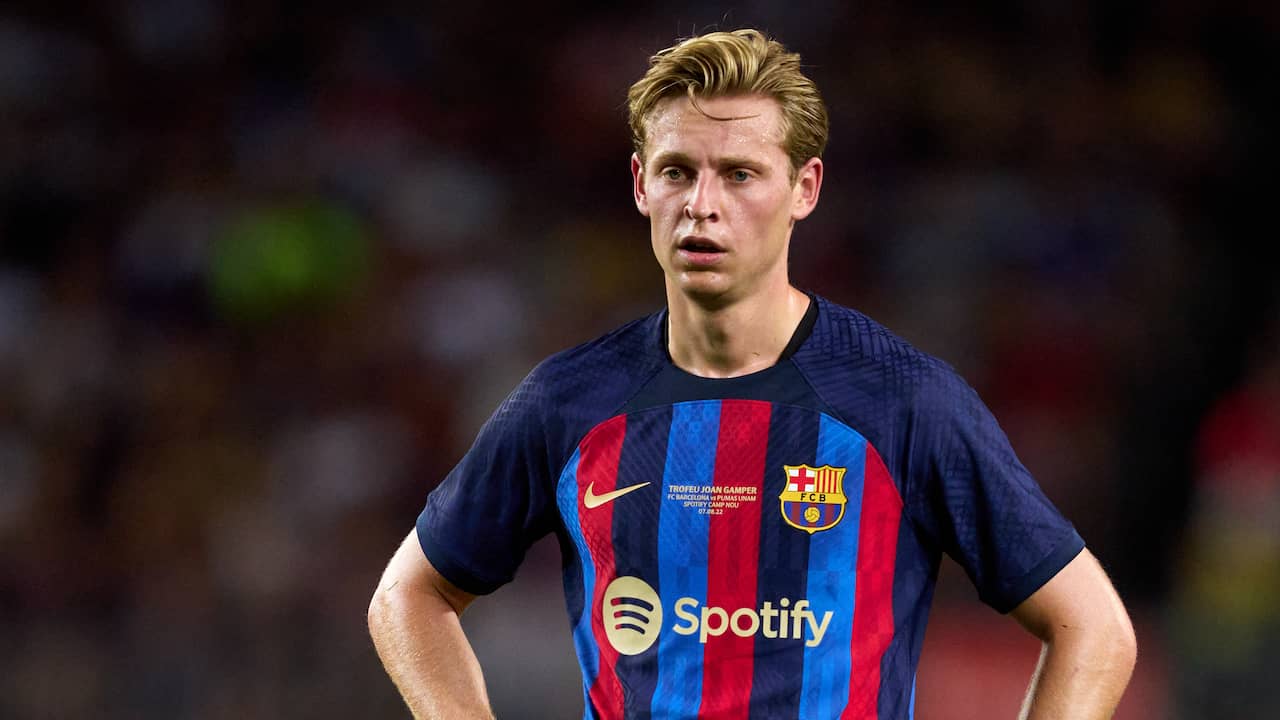 Frenkie de Jong is said to be furious about FC Barcelona's behavior.
Photo: Getty Images
This resulted in a controversial soap opera in Camp Nou: according to various Spanish media, De Jong refuses to hand in salary for next season. The Orange international has already thought along with the club in recent years by adding a lot of water to the wine and he also has 19 million euros in arrears in salary and premiums from FC Barcelona.
After his refusal, a real campaign arose against De Jong. Barcelona sent on July 15 according to The Athletic a fire letter to the Dutchman stating that his contract was possibly illegal, because it had been concluded by the previous board under "criminal pretexts". The club also threatened with a lawsuit against its own player.
Just before that, De Jong's contract had even ended up on the street. The Spanish sports newspaper marca published all the details of the Dutchman's commitment. This showed, among other things, that Barcelona must pay more than 88 million euros to De Jong until his contract expires in 2026. According to Sport De Jong's agent Ali Dursun would have been furious that the contract had been leaked.
All eyes in Camp Nou are on Frenkie de Jong.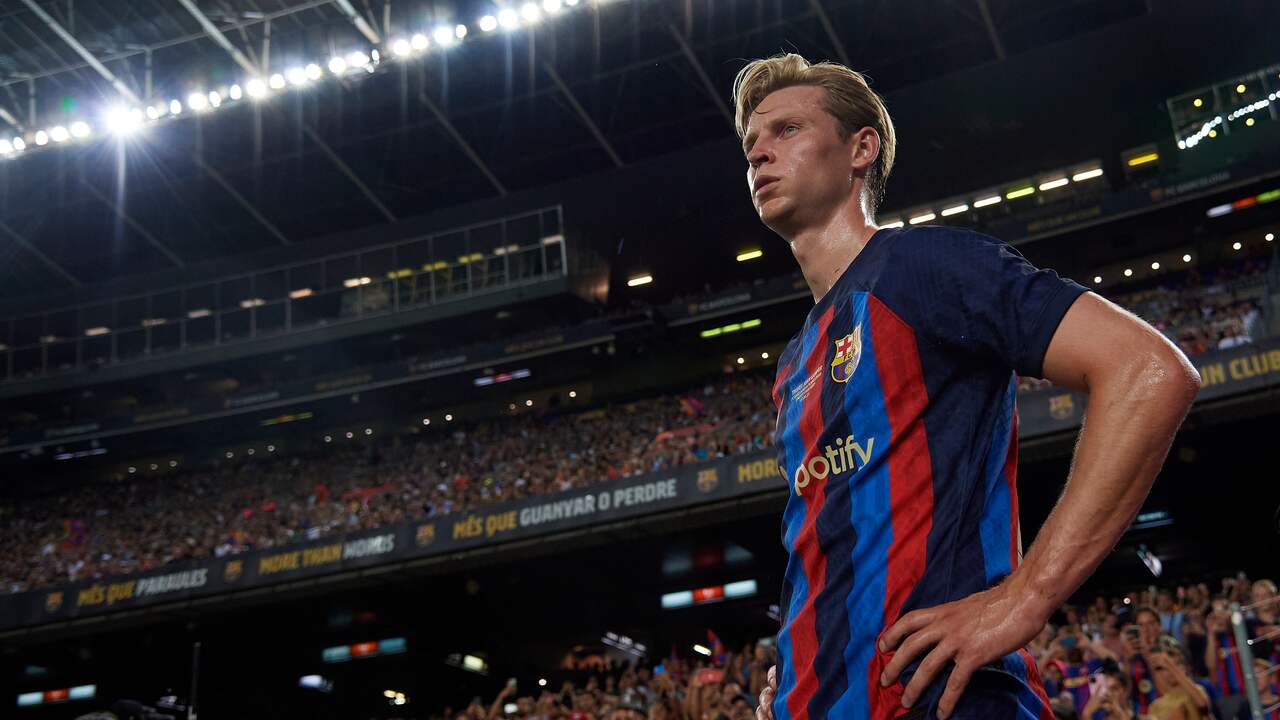 All eyes in Camp Nou are on Frenkie de Jong.
Photo: Getty Images
Because De Jong refused to make a new wage sacrifice and with his high salary indirectly blocks the registration of seven players, the club aims to sell the player who represents the highest market value of all selection members.
Barcelona reportedly reached an agreement with Manchester United last month on a transfer fee of 85 million euros, but De Jong dropped the deal because manager Erik ten Hag's team does not play in the Champions League. Despite all the vicissitudes, the Dutchman would like to stay in Barcelona, ​​but under the current conditions.
FC Barcelona seems to have found a new way out. The usually well-established Sport reported on the front page on Thursday that the club is almost done with Chelsea about the sale of De Jong. This time it would be an offer of 80 million euros. It is not clear how De Jong feels about a transfer to the Premier League club. Chelsea do play in the Champions League.
Agent Dursun has been in Barcelona since Wednesday to talk to the club management about the future of De Jong. The mood is said to have risen considerably with the midfielder in recent weeks. The former Ajax player feels pressured by the Barcelona directors.
Mundo Deportivo reported that Dursun has called the Spanish players' union, the international players' union FIFPro and the Spanish league management to the bell about the "smear campaign" by the club. Earlier, the Dutch players' union VVCS already spoke of "extortion" by FC Barcelona.
To the outside world, chairman Laporta has been putting on a beautiful weather show for a while when the situation of De Jong is discussed. "Offers have come in for him, but we want him to stay," the president told Spanish television channel TV3 last Sunday. "Frenkie herself also wants to stay."
It is unclear how the transfer soap will end. Trainer Xavi recently said he was counting on De Jong, who started strikingly enough on the bench on Sunday in the practice match against Pumas UNAM (6-0) and made a strong impression as a substitute. But at the same time, FC Barcelona desperately needs the possible transfer fee for De Jong.
Incidentally, De Jong is not the only player who has been asked to pay a wage sacrifice: club icons and veterans Gerard Piqué and Sergio Busquets would also have to give up considerably. Either way, they can stay with the club. Memphis Depay seems to be on his way to the exit: he is heading for a transfer to Juventus. This also saves the club salary.
FC Barcelona has until September 1 to register players and to put everything in order. For the first competition match with Rayo Vallecano, it will be a race against time to get everyone eligible to play. Saturday at 9 p.m. FC Barcelona kicks off the new season in Camp Nou. Clubs players may be registered up to five minutes before kick-off. The controversial game behind the scenes at Barcelona will not be over yet.
---