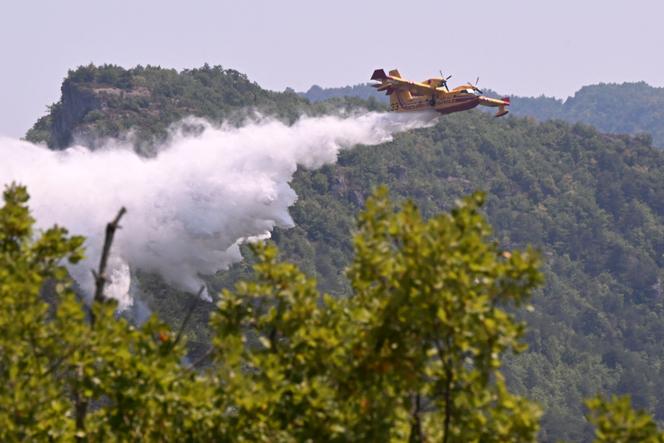 A Canadair drops water on a forest fire in Boyne, in the south of France, in the Grands Causses regional natural park, on August 9, 2022. PASCAL GUYOT / AFP
While forest fires are ravaging the south-west of the country in particular, four planes from the European Union (EU), based in Greece and Sweden, have been made available to France to fight the fires, announced Thursday, August 11 European Commission. Several Italian Canadairs are also on their way, Emmanuel Macron announced in a tweet.
In addition, firefighting teams from Germany, Poland, Austria and Romania are mobilizing to support French firefighters within the framework of the EU Civil Protection Mechanism, requested by the French authorities. "The EU stands in full solidarity when a country is confronted with an emergency situation," said European Commissioner for Crisis Management Janez Lenarcic in a statement.
"European solidarity is at work! ", welcomed for his part the French President, Emmanuel Macron, in a tweet announcing this European aid.
Germany, Greece, Poland, and in the next few hours Romania and Austria: our partners come… https://t.co/MqT43yvAwr

—EmmanuelMacron (@Emmanuel Macron)
Greece will dispatch two Canadair and Sweden two Air Tractor "during the day", specified the French presidency. On the land side, Germany is sending 64 firefighters and 24 vehicles, expected from Thursday evening, she added. The Polish reinforcements – 146 firefighters and 49 vehicles – will arrive Friday at midday.
The Commission also clarified that the EU's Copernicus satellite had been activated by Paris to collect essential data for first responders on burnt areas.
Thousands of firefighters are currently fighting in France against new blazes in forests completely dried out by heat waves and the historic lack of rain. On Wednesday evening, eight major fires were burning in France, in Gironde (South-West), Maine-et-Loire (West), Jura (East), Drôme, Aveyron and Lozère (South-East), not to mention countless smaller fire starts every day from north to south of the country.
Read also: Article reserved for our subscribers In La Teste-de-Buch, in Gironde, "there will be a before and after the fire"
---