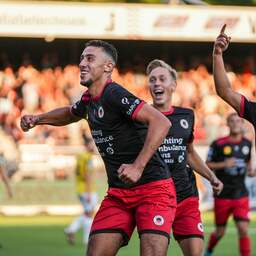 Lineups! There are the 22 names that will start tonight in the Van Donge & De Roo Stadium. Vitesse starts with the same eleven names as last week. The injured keeper Schubert still misses and is replaced by Houwen. Excelsior also starts with the same eleven as during the 0-2 won game against SC Cambuur. The names:
Excelsior: Van Gassel, Horemans, Nieuwpoort, El Yaakoubi, Tjoe-a-On, Azarkan, Baas, Eijgenraam, Driouech, Kharchouch and Goudmijn.
speed: Houwen, Meulensteen, Cornelisse, Ferro, Arcus, Trondstad, Bero, Wittek, Domgjoni, Manhoef and Frederiksen.
---