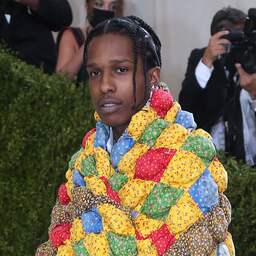 A$AP Rocky has several number 1 albums to his name in the United States, but in the Netherlands many know him mainly as Rihanna's friend and the man who regularly comes into contact with the law. The rapper is being charged with a shooting and this is not the first time.
Rakim Mayers, who grew up in the New York neighborhoods of Harlem and The Bronx, spends time in prison before his breakthrough as a rapper. In 2006, the then sixteen-year-old A$AP Rocky was arrested for firing a weapon during an argument. He is in prison on Rikers Island for two weeks, also for dealing in drugs.
In 2012, when the rapper has just achieved his first major successes, he comes into contact with the police twice within a month. The first time he allegedly got involved in a group fight in the street. In the other incident, he and a friend attack two men who are taking pictures of him. The men took pictures of the rapper as he got into a heated argument with another. In the end, the rapper confesses to an attempted theft, because he tried to take their cameras. He will be fined and sentenced to community service.
At a festival in Philadelphia in 2013, A$AP Rocky allegedly punched a woman in the audience. He is charged with assault, but the case ends when a witness does not show up. The alleged victim does not give up and sues him again, because she still experiences physical discomfort from the blow. The rapper denies having touched her, but will reach a settlement with her in 2015.
That same year, a conflict arises between A$AP Rocky and his former manager. The rapper is being sued for breach of contract, but is also filing a complaint himself. He says he still has to get money. They will eventually reach a settlement in 2019.
In 2019, A$AP Rocky dominates the world news for several weeks when he gets involved in a fight in the Swedish capital Stockholm and has to spend weeks behind bars. The rapper initially shares images of the incident on Instagram. He and his entourage are said to have been harassed by two men who chased them and who had also beaten women on the buttocks. One of the two men was beaten up and attacked with broken glass.
According to the rapper and his team, it was self-defense, but the Swedish authorities do not agree. He must await his trial in prison and interrupt his tour. Even then-President Donald Trump is interfering in the case and wants to ensure that Sweden releases the rapper. He is eventually convicted of assault and has to pay damages of about $1,250. A$AP Rocky is also given a suspended prison sentence. But he doesn't have to go to jail, because he was already incarcerated for a month for the trial.
In April 2022, A$AP Rocky is met by the Los Angeles Police Department and arrested at the airport for involvement in a shooting in November 2021. The alleged victim states that he was shot at by the rapper. A day after his arrest, he is released after paying a bail of more than 0.5 million euros. Shortly afterwards, the police raided the rapper's home. There, officers found several weapons. But the weapon that would have been used during the shooting is not among them.
Terell Ephron will be officially charged in the summer of 2022. He says he got into an argument with A$AP Rocky, after which the artist shot him in the hand. Ephron is also known as A$AP Relli. He was part of the same hip-hop collective as A$AP Rocky. According to Ephron, there is video footage of the shooting. A$AP Rocky is due to appear in a hearing on August 17.
---