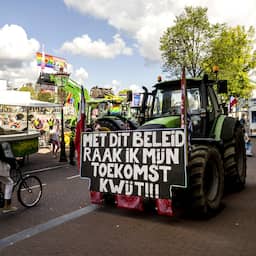 Animal feed company ForFarmers will also not sit down with the cabinet next Thursday to discuss tackling the nitrogen crisis. ForFarmers indicates that it has received an invitation from mediator and former minister Johan Remkes, but does not participate.
According to a spokesperson, the animal feed company has indicated that representatives of the farmers' organizations must first be spoken to. Remarkably enough, ForFarmers CEO Chris Deen did come up with an appeal to the cabinet on Thursday to offer room for a conversation, in which everything can be discussed.
Billions of companies in the agricultural sector appear to avoid a conversation with the cabinet as long as no promises are made to the farmers, NU.nl reported on Wednesday. So far, only Rabobank and a representative of the supermarkets have joined the conversation.
It is striking that the large companies, such as animal feed and dairy giants, are now refusing to enter into talks. They have fully supported the farmers' protests against the nitrogen policy since 2019, also financially. For example, Bart Kemp's Agractie action group received support from the animal feed company ForFarmers.
---