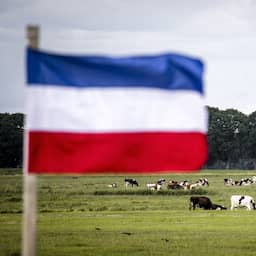 Anyone driving on the A20 at Maassluis on Thursday morning will have blinked twice: on a lawn along the highway is an inverted Dutch flag measuring 100 meters by fifteen metres. Farmers protest activists placed the canvas last night.
The canvas is anchored in the ground with steel wire. Photos of the flag are shared in well-known farmer telegram groups. The farmers themselves say that the canvas is the largest inverted Dutch flag to date.
Rijkswaterstaat was not yet able to report whether and when the flag will be removed.
Maasdijk
Five days ago, a large inverted flag hung along the highway in Maasdijk. It hung from the mast of McDonald's, about a ten-minute drive from the place where the flag in Maassluis was dropped last night. It was then said to be the largest inverted flag in the Netherlands.
---