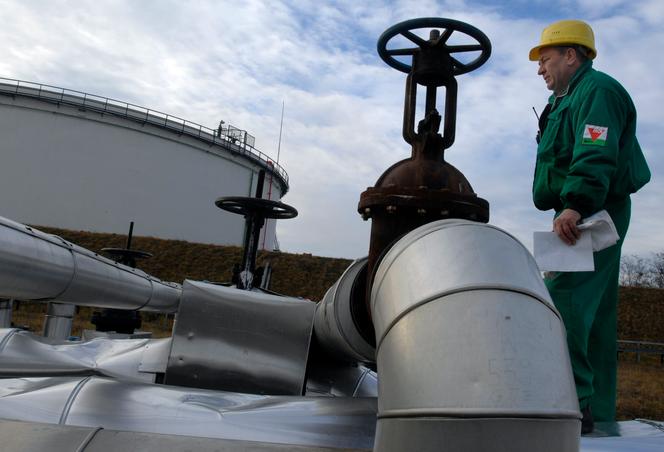 An engineer from the Hungarian oil and gas company (MOL) checks an oil pipeline in the Szazhalombatta oil refinery, south of Budapest (Hungary), January 9, 2007. BELA SZANDELSZKY / AP
The war of nerves continues in Europe on the front of Russian energy supplies. This time, and this when several countries of the European Union have already seen their supply cut off, it is the oil shipments – which pass through Ukraine – to Hungary, Slovakia and the Czech Republic. which, since August 4, have been interrupted. This information, to be taken with precaution, comes from the Russian company responsible for the transport of hydrocarbons.
Read also: War in Ukraine, live: Russian strikes leave thirteen dead in several towns near the Zaporizhia power plant
In a statement dated Tuesday, August 9, Transneft justified the stop by the fact that its payment for the right of transit through Ukraine for the month of August had been refused due to Western sanctions against Russia. If these deliveries are affected, those which pass through another branch of this same Druzhba pipeline, through Belarus, to Germany and Poland, on the other hand, continue "normally", according to Transneft.
jolt
While the European Union has undertaken to reduce its oil imports from Russia by 90% by the end of the year, these three countries, without access to the sea and very dependent on this black gold , have obtained from Brussels, under pressure from Viktor Orban, the Hungarian Prime Minister, close to Vladimir Putin, to exempt their supplies via this pipeline from sanctions.
Faced with this last jolt, these three countries have nevertheless started negotiations with the actors concerned with a view to resuming deliveries. "The next few days will show whether it is a further escalation of the energy war by Russia or a technical problem with payments," said Jozef Sikela, the Czech Minister of Industry and Trade on Twitter. According to him, oil reserves have been stored with the Czech pipeline operator Mero, which should make it possible to cover the supply shortfall at least until the second half of August. "We also have strategic stocks that are enough for almost ninety days. We are not going to activate them now," he added.
Read also: Article reserved for our subscribers Under American pressure, OPEC agrees to a minimal increase in its oil production
In Slovakia, the spokesperson for the Slovnaft refinery also wanted to be reassuring. He said that despite the situation, the plant had not ceased to operate so far. And that his group had also initiated, in collaboration with MOL, the Hungarian oil and gas company, discussions with Ukraine and Russia, including in particular the payment of transit costs with a view to resuming forwarding.
You have 11.37% of this article left to read. The following is for subscribers only.
---