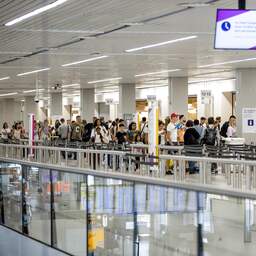 Office staff from a number of Schiphol partners will be deployed at the airport in the coming period to prevent crowds.
These include employees of Microsoft, Cognizant, Aboma, the Ministry of Infrastructure and Water Management. Staff from construction companies BAM and Heijmans are also assisting. In the near future, the employees will help and answer questions from travelers in the terminals.
"It is heartwarming to see that office staff of our partners want to help selflessly in the terminal. We are happy to take that help with both hands. This not only helps the traveler, but also makes the work of our employees easier", says operational director Patricia Vitalis from Schiphol.
Schiphol recently received two hundred extra security guards, but that does not mean that the crowds are over. The new employees will be arriving in phases and the airport is in the process of recruiting even more security guards.
Schiphol has been struggling with a shortage of security officers and baggage handlers for some time now. In combination with the growing flow of holidaymakers, this has been causing great crowds for weeks, resulting in flight cancellations and delays.
---