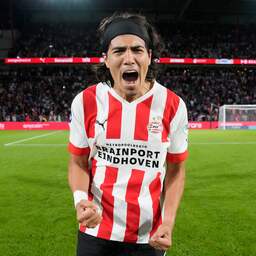 Érick Gutiérrez has extended his contract with PSV for two years. The 27-year-old midfielder, who made the important 2-2 on Tuesday evening in the third qualifying round of the Champions League against AS Monaco (3-2), is now stuck until mid-2025.
Gutiérrez has been under contract with PSV since the summer of 2018, which paid the Mexican Pachuca 6 million euros at the time.
'Guti' has so far played 99 matches for the Eindhoven team. The Mexican international won the KNVB Cup with PSV once and the Johan Cruijff Scale twice.
The midfielder has played every game this season for the team of coach Ruud van Nistelrooij. On Tuesday against Monaco, Gutiérrez played a crucial role as a substitute by heading in the 2-2 just before time, which meant that extra time was needed. In it, Luuk de Jong made the decisive 3-2.
---