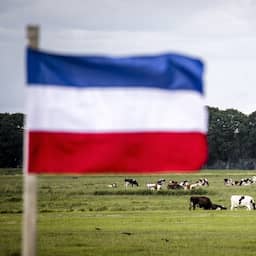 The municipality of Zwolle is going to remove inverted flags on the street for next Monday, the day of the National Indies Remembrance. Mayor Peter Snijders announced this today. Until now, flags have only been removed if road safety was at stake.
'The flags have now had their function', according to the municipality of Zwolle. And so all inverted flags, the symbol of the farmers' protests, must be gone before August 15th. The occasion is the commemoration of the official end of the Second World War in the Dutch Kingdom on that day. in Meppel does the municipality also make this call.
"We want to make a worthy appeal because of this important commemoration," said spokesperson Twan Timmermans on behalf of the municipality of Zwolle. The municipality would rather not see the inverted flags return to the streets afterwards. Timmermans: "We ask all Zwolle residents to flag correctly in the spirit of solidarity. Specifically on 15 August, but as far as we are concerned also afterwards."
He adds: "We value freedom of expression and so far have only enforced it when road safety was at stake. But you could say: the point is now made clear, the attention value of the flags is wearing down."
But it is still unclear whether the municipality will enforce it after August 15. "We are not descending to that question yet. We are only making this call now, because of August 15. Then we will see further."
While the Netherlands was liberated on 5 May 1945, the war in the Dutch East Indies continued. It had been occupied by Japan, an ally of Nazi Germany, since 1941. On August 15, Japan capitulated and the Second World War officially ended in the Kingdom of the Netherlands.
---