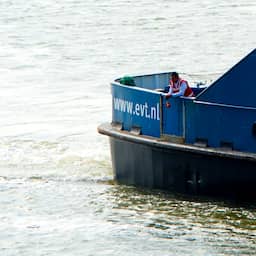 The Olburgen-Dieren ferry service will no longer operate from Wednesday. It is the first car ferry in the Achterhoek and Liemers to stop sailing. Owner Roland Jansen thinks the risk of damage is too great.
"That has to do with a sandbank full of stones on one of the banks. Due to the low water level on the IJssel, the space between the ferry and that sandbank is too small. I don't want to run that risk, because then it will cost me thousands of euros ", says Jansen as the reason.
The ferry operator is disappointed that he has to stop sailing in the middle of the high season. He is missing out on a lot of income. "But that doesn't outweigh the cost of the damage," he says. "In addition, it must of course also remain safe for those on board."
It is not yet known when the ferry will sail again. "I am not a clairvoyant. The water will continue to be carried away to the IJsselmeer for the time being. It is hoped that it will rain in Switzerland and Germany."
For the time being, it is the only ferry from Achterhoek and Liemer to be out of service due to low water levels in the Rhine and IJssel. Although the Bronkhorsterveer – the ferry service between Bronkhorst and Brummen – decides on Tuesday evening whether it will also stop.
A little further upstream, near Giesbeek, the situation is still manageable for Veerdienst Rheden. The ferry is still running. "It's all just barely possible. How long? We don't know that yet," says ferry operator Richard van Oijen. "In 37 years on this ferry service, I have never seen the water level in the IJssel so low."
---