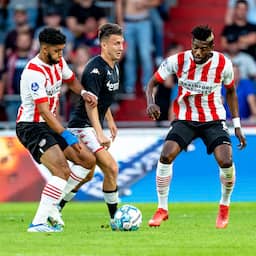 PSV's home match against FC Volendam on August 20 has been moved permanently. That happened because the Eindhoven club reached the play-offs of the Champions League on Tuesday evening after the win over AS Monaco (3-2). The competition match with the PhD student is now on Wednesday 31 August.
The Eredivisie match between PSV and FC Volendam would fall exactly between the two play-off matches. The team of Ruud van Nistelrooij plays in the play-offs against Rangers FC, the team of Giovanni van Bronckhorst.
By moving the competition match, PSV can optimally prepare for the return. It will be played on August 24 in the Philips Stadium.
For several seasons, clubs that are active in Europe can submit a request to postpone matches in the Eredivisie, giving them more time to prepare for European duels. This is part of the so-called 'change agenda', which was introduced in 2018.
The goal of the Eredivisie was to rise to the top eight of the UEFA coefficient list when this plan was launched. The Netherlands is now sixth.
The first leg between PSV and Rangers FC will take place in Scotland on August 16, after which PSV hopes to win the Champions League ticket in-house on August 24.
---