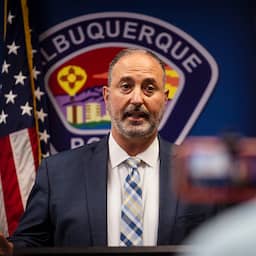 Albuquerque police have located and arrested a suspect in a series of murders of Muslim men in the American city. The killings have gripped the local Muslim community.
Police had not released much information about the cases yet.
At least three Pakistani-American men are said to have been murdered in recent weeks. A murder of a 62-year-old Muslim from Afghanistan has also been linked to the series of murders. Two victims went to the same mosque.
The police were looking for a gray Volkswagen. She seems to have tracked them down now. The driver has been arrested and is considered the prime suspect in the cases.
The motive for the murders has not yet been released. Later, the police will announce more information at a press conference.
US President Joe Biden responded to Twitter appalled at the murders. "I am angry and saddened by the horrific murders of four Muslim men in Albuquerque. While we await the results of a full investigation, I pray for the families of the victims. My government stands firmly behind the Muslim community."
---