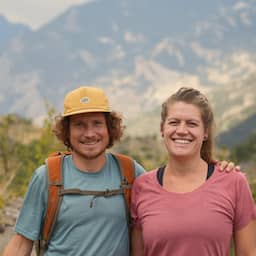 About 40,000 Dutch people emigrate abroad every year. How do you like working in their new (temporary) home country? And do they actually want to go back to the Netherlands? This time we speak to Jitske Volkert in the French Alps.
Who: Jitske Volkert Function: freelance marketer and co-owner of Outeroffice, provider of outdoor working holidays Where: Saint-Crepin, France Ever since: 2021
Where are you exactly?
"In the Hautes-Alpes, a two-hour drive from Grenoble. We are located between ten winter sports areas. But also close to a large reservoir where you can really do all kinds of water sports. So there is plenty to do here in both summer and winter. Exactly the reason why we wanted to move here. We are both active and love nature. Basically we chose the life we ​​dreamed of and looked for work for it."
"We let people combine their work with outdoor sports at beautiful locations in France, Germany, Norway and Portugal. I also work much better when I have walked or played sports in the morning in the beautiful nature. The mountains here give you a very nice feeling and there are many animals. We regularly see deer and alpine marmots. We are convinced that nature benefits everyone. Besides the company I work as a freelance marketer and my friend as a video and photographer. It is a good combination."
"We didn't want to become a typical I Departure story; new residents who barely speak the language."
Did you find it exciting to emigrate?
"It all still feels very new, we have only been here since the end of December. But I have never really found it exciting. It helps that we first went on holiday here, then we went for two months. So the step didn't feel quite right. big."
"At first we planned to remain registered in the Netherlands for the time being, so that we could return more easily if we didn't like it. But now we are in the process of becoming an official resident of France and registering our company here. you always hear about everyone stopped us. Fortunately, there are people who can help us with this."
You live in a small village, isn't that difficult?
"We recently bought e-mountain bikes, so that we don't have to do everything by car. That works very well: in five minutes you are at the bakery, in fifteen minutes you are in the nearest town. It also makes a difference that we are in Loosdrecht were used to everything being half an hour away."
Are you fully integrated yet?
"I have the feeling that the French have welcomed us well. The neighbor helps us with our vegetable garden and we were recently invited to the village festival. With all the inhabitants – there are only about twenty – we were eating at long tables. That was a lot of fun."
"We are getting better at speaking French, such a party is a good exercise. We didn't want to become a typical I Departure story; new residents who barely speak the language. That's why I had French lessons for a year before departure."
What do you miss most about the Netherlands?
"Not even that much, haha. It's not that we never come to the Netherlands again, we go back regularly. It's only a day's drive. What also makes a difference is that we have already had a lot of visitors. When people come to visit , they stay for a longer period of time. Now it's not about quantity, but about quality. You don't see family just for a day, but for a whole week. That's great fun."
What do you like to do in your spare time?
"We go hiking and kitesurfing a lot, but we also travel a lot with the e-mountain bike. In the winter we snowboard. But splitboarding and snow kiting are also very good here. This is a real outdoor sports paradise."
Will you still be living here in five years?
"I never think that far ahead. But if you ask me now, I'll say we'll still be here in five years. It's a very different life, but it suits us very well."
We do not have permission for the necessary cookies. Please accept the cookies to view this content.
---