To not miss any African news, subscribe to the World Africa newsletter from this link. Every Saturday at 6 a.m., find a week of news and debates covered by the editorial staff of Le Monde Afrique.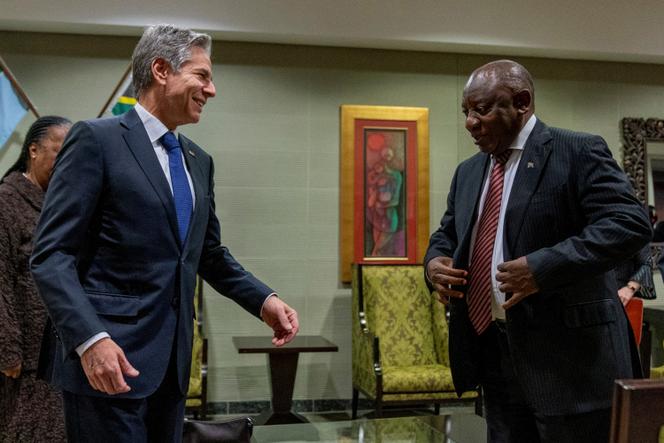 The head of American diplomacy, Antony Blinken, with South African President Cyril Ramaphosa, at the Centurion Waterkloof airport base, in the suburbs of Pretoria, on August 8, 2022. POOL / REUTERS
"The United States will not dictate Africa's choices. And no one else should. Traveling to South Africa, the first leg of his African tour, Monday July 8, before going to the Democratic Republic of Congo (DRC) and Rwanda, US Secretary of State Antony Blinken played the humility. The "new strategy of the United States in sub-Saharan Africa" ​​that he presented in Pretoria pleads for an "equal to equal" partnership, particularly in the fields of health, climate transition and access to energy. .
Read also: Antony Blinken begins his African tour with South Africa and Soweto
After eight years of Trump's presidency marked by relative disinterest, the Biden administration is trying to regain a foothold in Africa in the face of the growing influence of China and Russia, against a backdrop of tensions exacerbated by the war in Ukraine. This is the second time, in less than nine months, that the American Secretary of State has visited the continent.
Recalling that a quarter of the world's population will be African by 2050, he assured, on Monday, that he wanted to "invest in the future" by building a "real partnership" over the long term. "We have all heard the rhetoric that South Africa and the continent as a whole is the final playing field in the superpower competition. Basically, that's not how we see it," he said.
"Offer a choice"
Fifteen days earlier, during a trip to Egypt, Congo-Brazzaville, Uganda and Ethiopia, the Russian Foreign Minister, Sergey Lavrov, had denounced the "undisguised attempts of the United States and their European satellites to take over and impose a unipolar world order". A message that resonates particularly in Africa. Pretoria, like fourteen other African capitals, abstained in March from voting on a United Nations resolution condemning "Russian aggression" in Ukraine.
"Our goal is not to say: you have to choose. It's to offer a choice," replies Antony Blinken. The United States wishes in particular to promote democracy by supporting civil society and the press, while "what Russia exports the most to the most troubled places on the continent is its proxy, the Wagner group, [dont la présence] translates into more deaths and more destruction in far too many countries," said the Secretary of State.
You have 53.94% of this article left to read. The following is for subscribers only.
---