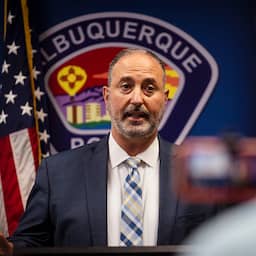 The suspect arrested by US police after a series of murders of Muslims is charged with two of the murders. That reports the prosecutor of the city of Albuquerque. It concerns a 51-year-old man who, according to the police, knew the victims.
The killings sparked unrest among the Muslim community in Albuquerque. Three Pakistani-American men were shot dead there in the past two weeks. The string of killings began last November when a 62-year-old Muslim from Afghanistan was killed.
The arrested suspect is charged with two of the murders. Police are still investigating whether the man can also be charged with the two other murders. The exact motive is still unclear, the police suspect that a 'personal conflict' led to the deadly shootings.
Earlier in the day, officers were able to locate the suspect's car, after which the driver was arrested. "It's been a tough week for our community," Albuquerque Police Chief Harold Medina said in a statement. "But we all worked to solve these crimes and protect a community that felt they were being attacked."
US President Joe Biden responded to Twitter appalled at the murders. "I am angry and saddened by the horrific murders of four Muslim men in Albuquerque. While we await the results of a full investigation, I pray for the families of the victims. My government stands firmly behind the Muslim community."
---