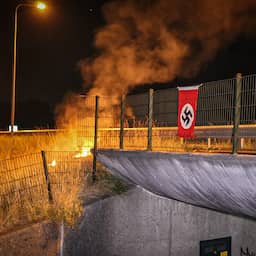 The police have launched an investigation into the Nazi flag that was hung along the A1 near Stroe in the night from Saturday to Sunday. Through camera images and possible tips, the police want to find out who hung the flag.
A roadside fire had been lit next to the viaduct to which the flag was attached. Some car tires were set on fire. The fire was quickly extinguished by the fire brigade. The police removed the Nazi flag from the viaduct and took it for further investigation.
Farmers have been putting up flags and setting fires on and next to highways in recent weeks as part of their protest against nitrogen policies. The local farmers deny having hung the Nazi flag. "We have absolutely nothing to do with this," a local farmer told Omroep Gelderland.
Hanging a flag with a swastika is a criminal offence. According to the Jewish interest group CIDI, it is "not just a swastika flag", but "exactly the flag of Nazi Germany". "We often see graffiti with a swastika, but this flag is associated even more quickly with hatred and violence."
The police say they are taking the matter "very seriously and are calling on people to share information". Camera images are also used. The police say to "keep all scenarios open".
A photographer from a Gelderland press agency was the first to take pictures of the flag and the fire. The news agency received threats from people who believed that the photographer had staged the incident. The news agency denies that certainly.
---