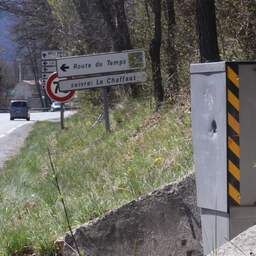 The speed limit has recently been increased on many provincial roads in France. But in enforcement, mistakes are made because the equipment of speed checks has not yet been adapted. AutoWeek warns Dutch motorists therefore ensure that they can unjustly receive a ticket during their holiday.
In France you have been allowed to drive faster than before on many roads for some time now. A policy that is at odds with Dutch policy, where in recent years the choice has been mainly for speed reductions. In any case, in France the confusion about speed limits is greater for motorists than ever before.
In 2018, a speed limit of 80 kilometers per hour was introduced for the entire country on provincial roads (referred to in France as D or RD roads: Route départementale). This was done from the point of view of the environment and road safety.
But a year later it was decided that each French department may decide for itself again. In response, some departments have increased the speed limit to the original 90 kilometers per hour. This mainly concerns secondary roads with two-way traffic, where the driving directions are not separated by a crash barrier.
"Be careful if you receive a ticket."
AutoWeek
Flash cameras regularly make mistakes
With regard to enforcement, this introduction of the new speed limit does not appear to run smoothly. Flash cameras regularly make mistakes. They are sometimes not yet adapted to the new limit, while on-site signs often state the new, higher permitted speed.
According to the French news magazine Le Point, there are regular reports of unjustified fines on roads where you are now allowed to drive 90 kilometers per hour, while previously there was a limit of 80.
"On some routes, the speed cameras still appear to be activated at speeds above 80 kilometers per hour. So pay close attention if you receive a ticket. It may not be justified and it pays to fight it," warns AutoWeek .
It can be extra confusing that some navigation systems and apps still indicate that 80 kilometers per hour applies on a route, while in reality it is already 90. This is because speed limits are often entered into the navigation software and are outdated if the software has not been updated in time.
Objection on a special website
To ensure that you maintain the correct speed, it is therefore advisable to always follow the signs along the road. It also helps if a car recognizes the traffic signs via its camera and displays them on the screens in the car. And if you want to be on the safe side, it is of course wise not to drive faster than 80 kilometers per hour in any case.
If you want to object to a traffic fine in France, you can do so at a special website of the French government. Violations can also be viewed and fines paid. This website can largely be viewed in a Dutch translation. Click on the Dutch flag at the top right of the webpage.
We do not have permission for the necessary cookies. Please accept the cookies to view this content.
---