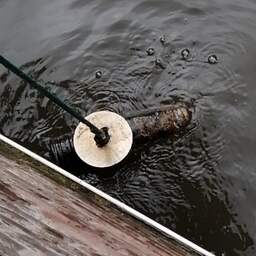 This morning it hit the Erasmus Park again, magnet fisherman John Vleers pulled several grenades and firearms out of the water of the Erasmusgracht just after 7 a.m. The police have closed part of the park and the Explosive Ordnance Disposal Service (EOD) is investigating.
A week ago, Vleers also reached almost the same place multiple firearms and grenades from the canal. "It's really almost next to each other," says Vleers. Several pistols and two grenades were then fished out of the water. This morning Vleers pulled at least two alarm pistols out of the water and three or four grenades.
With all his knowledge, Vleers immediately called the police. The EOD and the Explosives Reconnaissance Team (TEV) of the police arrived on the scene to investigate whether the weapons found were dangerous. "The grenades found are very unstable, the EOD is working on that," says the magnet fisherman.
The double find within a week is a reason for John to think twice whether he will still go fishing at the park. "I'm not going to pass by here anymore for the time being. It's full here, it's all grenades here."
---