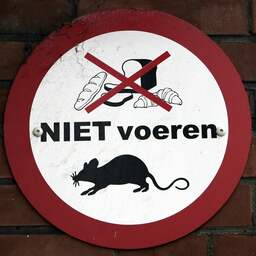 The municipality of Leusden has not received more reports of rat nuisance than usual. Dog owners recently raised the alarm after dogs got sick from eating something poisonous. Rat poison, spread without malicious intent, or so they suspected.
Two weeks ago, two reports came in about dogs that had eaten something wrong. One dog got sick, the other died. In the latter case, a vet indeed diagnosed poisoning, but that is not certain of the dog that survived.
dog owners held a cleanup at the dog beach last month at the Liniedijk, because both dogs had walked there before they got sick. Their suspicion was that residents who suffer from rats, without malicious intent, deposited rat poison in their own garden, which subsequently ended up in public spaces at the hands of (wild) animals. The municipality of Leusden will not investigate whether this is the case.
Because nothing has been found since the last two reports, the municipality also reports. "No new cases have been reported and no suspicious situations have been reported." Leusden still keeps an eye on things. "We will of course keep an eye on whether there are more cases and whether they can be related to a certain (walking) location." Moreover, there are no signs that the nuisance of rats in the municipality is increasing, Leusden also says.
It does not come out of the blue that dog owners and the municipality are alert. At the end of last year and at the beginning of this year, meatballs with (so revealed after police investigation) found rat poison. Who put those balls down at the time and why, has still not been clarified.
---