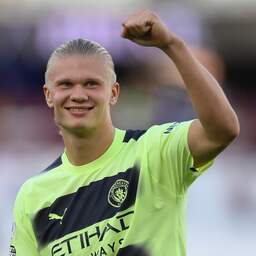 Pep Guardiola is impressed by the way Erling Haaland showed himself on Sunday in his league debut for Manchester City. The Norwegian top striker, criticized a week ago after his performance against Liverpool in the FA Community Shield, helped 'The Citizens' to a win at West Ham United with two goals.
Haaland converted a penalty kick decorated by himself in the 36th minute and also scored the second goal in the 65th minute. A week ago, the top signing played a fairly anonymous role against Liverpool and missed a big opportunity. Partly because of this, City lost the battle for the English supercup 3-1.
"I saw this week how well Haaland dealt with the criticism he received after last week's game," Guardiola said at his press conference after the game against West Ham. "He was very calm and trained very well."
"I also liked watching him claim the ball to take the penalty. I think he would even have punched a teammate in the face if someone took the ball from him. It's a very good sign that he is like that." have a lot of confidence."
Guardiola happy with dissatisfied Haaland: 'Messi always wanted more'
Haaland made the switch from Borussia Dortmund to Manchester City for around €60 million this summer, where expectations are sky-high. The 21-time international from Norway was good for 86 hits on behalf of Dortmund in 89 official matches.
On his league debut for Dortmund in January 2020, Haaland immediately scored a hat-trick. After the game with West Ham United, the striker was disappointed that he did not succeed at Manchester City, to the delight of Guardiola.
"I like to see that dissatisfied feeling after two goals," said the Spanish coach. "I've had the pleasure of working with Lionel Messi. If he scored two goals, he wanted three. And if he scored three, he wanted four. The top scorers are never satisfied."
With his two goals in the first round, Haaland leads the top scorers list in the Premier League, along with Aleksandar Mitrovic (Fulham) and Pascal Gross (Brighton & Hove Albion). City continue the competition next week with a home game against Bournemouth.
View the program, results and standings in the Premier League
---