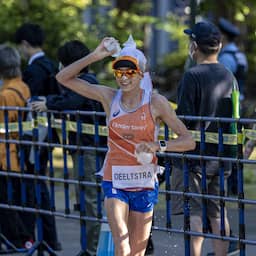 About fifty athletes have called on the organization of the European Athletics Championships in Munich to bring the start time of the marathon forward due to the heat.
The European Athletics Championships start on Monday and then the marathon is also on the program. The temperature in the German city is expected to rise to well above 30 degrees that day. The start of the women's race is at 10.30 am, the men will start their race an hour later.
"It is the organizer's job to protect the health of the athletes," German runner Fabienne Königstein wrote in an open letter on Monday. "We all want the marathon to attract as large an audience as possible and that is why it is of course important that the race is broadcast on TV," continues the head of the athletes' union. "But those considerations should not lead to health risks for the athletes."
About fifty athletes from different countries have signed the letter from the German athletes' union, including the Dutch participant Tom Hendrikse.
According to the athletes, the objections expressed earlier against the late start time have been set aside for the time being. "We do not feel that the organizers are going to change their minds, so we are now making our wish public," said Königstein.
With Nienke Brinkman, the Netherlands has a medal candidate in the marathon. The 28-year-old Brinkman finished second in Rotterdam in April and dived with 2:22.51 almost a minute below the nineteen-year-old Dutch record of Lornah Kiplagat. Her name is not on the letter.
---