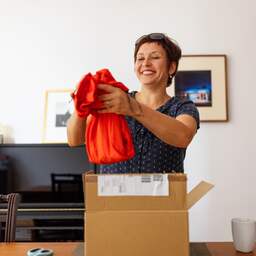 With continued inflation and high energy prices, life is quite expensive. If you buy something online, it can be tempting to pay afterwards. But what dangers lurk?
Suppose you buy a dining room table online, then of course you do not yet know what the table looks like in real life. Reason enough for Harriet Rikhof from Brunssum to pay afterwards for online purchases. "I started it last year and I really like it. I only pay when I have the product at home and want to keep it. That way you don't have to wait – if you do return it – to actually get the money back." She says she never pays in installments. "If I like something, I pay it immediately after receipt."
Such payment services sound useful, but according to Christian Meijer of government platform Wise in Money Matters, it is especially important to thoroughly understand the consequences. He says that there are different variants of paying later. "Sometimes without costs, sometimes with a one-off surcharge and sometimes even via a loan for a few months. In the latter two cases, you pay more than if you would pay immediately."
"You are a lot more critical if you see the money immediately go out of your account."
Christian Meijer, Money Wise
In 2020 it turned out research van Ruigrok Netpanel that more than a third of the surveyed consumers chose the option to pay for their online purchases afterwards. This happened most often in the 25 to 44 age group, where 43 percent paid afterwards.
According to Meijer, the services primarily respond to the 'payment pain' you feel with a direct payment. "By not paying immediately, you postpone the 'payment pain'. But that pain ensures that you find out whether you really need the purchase. You are a lot more critical if you see the money immediately debited from your account. In addition, you may have more trouble paying the bill in the future than you think now, for example due to an unforeseen expense such as a broken car or washing machine."
We think too rosy about our finances
Behavioral psychologist Martijn Pijs conducts research into money behaviour. He also mentions postponing 'payment pain' as a risk when paying afterwards. "We learn from behavioral psychology that people prefer to avoid or postpone pain. They are more focused on the positive side of the purchase."
"A payment service creates certainty for a consumer when purchasing online because they can receive it at home first. But is it really in the buyer's interest? That is not certain," says Pijs. "If you often pay in arrears or in installments, you lose track of your finances more easily. People are naturally inclined to think too rosy about their financial future. We overestimate ourselves."
For people who are already in debt, it becomes even more difficult. "The financial stress makes people less able to make rational decisions. The pros and cons of a purchase are not properly weighed up, with all the financial consequences that entails."
Web shop owner: 'I am obliged to participate in this'
For webshop owner Christian Hijlkema from Joure, payment services have become a permanent part of the payment options. "Almost a third of our customers pay afterwards with a payment service. On top of that, there are also people who want to pay in installments."
"You are simply obliged to participate in this," says Hijlkema. "Otherwise you will fall behind and lose too many customers." His own preference? "That people pay directly or if necessary via a credit card. That way we don't have to pay any commission to the payment service. But also for customers themselves: if you forget the invoice, you will receive considerable interest on top of the payment and even fines."
Meijer van Wijzer in Geldzaken also warns that the costs can rise sharply. "With a loan, the interest is soon 10 percent on an annual basis and a BKR registration follows. That in turn has consequences for other providers, such as a mortgage lender. They may decide that you will get less mortgage."
We do not have permission for the necessary cookies. Please accept the cookies to view this content.
---