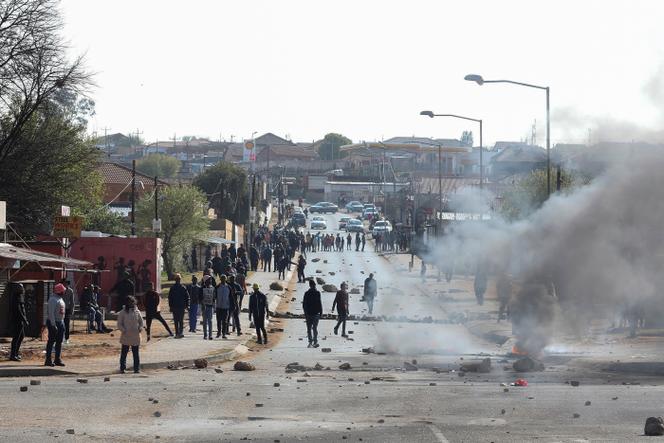 Residents of Krugersdorp, South Africa, block roads during protests against illegal miners, August 4, 2022. STRINGER / REUTERS
On Thursday August 4, thousands of angry South African protesters chased down illegal miners, shut down informal wells and burned homes after the gang rape of eight women west of Johannesburg last week.
Armed with machetes, golf clubs and hammers, mobs of residents of Kagiso township in Krugersdorp chased workers into old mines scattered around the economic capital. AFP journalists at the scene saw residents set fire to a house belonging to an alleged gang leader. Local television footage also showed protesters using rocks to seal makeshift wells in a neighborhood of Kagiso.
Episode 5 Article reserved for our subscribers "We are going to lose our job, our home": in South Africa, Zimbabweans "pushed out"
On July 28, a gang of armed men broke into the set of a music video and raped eight young women who were part of the cast, near Krugersdorp, a small town about thirty kilometers to the west from Johannesburg. Dozens of illegal miners have since been arrested and face prosecution on the grounds that they entered the country illegally and possess stolen property – but not directly in relation to the gang rape. Known as "zama zamas", these minors are mostly irregular migrants in the country.
A man found dead
"The zama zamas must leave, they are attacking our sisters," Daniel Nzuma, a 39-year-old protester, told AFP, saying the police "failed" to restore order. "The army must come and help the police in this area to protect the community," he added.
Police stood at a distance, firing stun grenades from a helicopter to disperse the crowd. In the evening, authorities said the situation had stabilized and 29 undocumented people had been arrested for illegal immigration. A murder investigation has been opened after the body of a man was found at the scene of the protests in the morning, police said, but did not specify the circumstances of the death.
Read also: In South Africa, fighting xenophobia on the tatami
The economic capital of South Africa, which has a population of around 6 million, is built around mountainous slag heaps and cavernous pits left behind by several generations of mining companies who have come to exploit the soil since the gold rush of the 1880s. Today, armed gangs of informal miners fight for control of abandoned pits to mine what remains of gold in the region. Their presence arouses fear and growing resentment, against a backdrop of great poverty and economic crisis.
To not miss any African news, subscribe to the World Africa newsletter from this link. Every Saturday at 6 a.m., find a week of news and debates covered by the editorial staff of Le Monde Afrique.
---