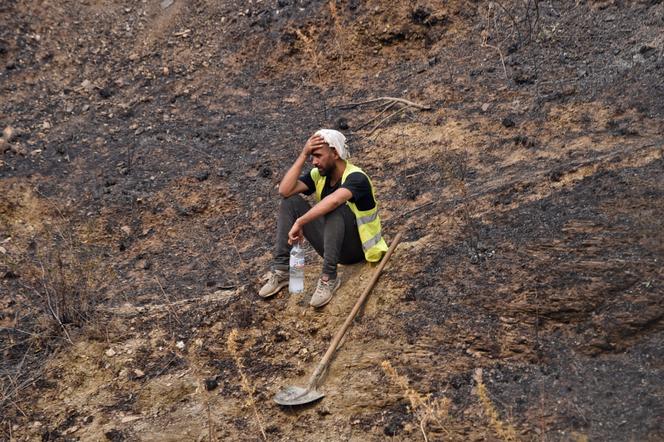 A volunteer engaged in the fight against forest fires in northern Algeria, August 12, 2021. RYAD KRAMDI / AFP
To not miss any African news, subscribe to the "Monde Afrique" newsletter from this link. Every Saturday at 6 am, find a week of news and debates covered by the editorial staff of "Monde Afrique".
"We have resumed village festivals and weddings, but the heart is not there. The sadness and the fear that it will start again are still there", breathes Khalifa Graichi, president of the village committee of Aït Abdelmoumene, in the region of Tizi Ouzou.
In 2021, gigantic fires ravaged northern Algeria. In the space of ten days, between August 9 and August 18, more than 100,000 hectares of vegetation had been reduced to ashes and 103 people had been killed, including 24 soldiers dispatched to put out the fires, according to the Ministry of Defence.
Should we fear a repeat of the disaster? In the wilayas (prefectures) of Skikda, Sétif and Mostaganem, the fires of June and July have already claimed the lives of four people. "All the inhabitants are anxious, not only those who lived through the fires last year", worries Zahir Benkhellat, teacher and member of the SOS Animals and Environment association, in Akbou, in the wilaya of Béjaïa.
"All the inhabitants are distressed, not only those who lived through the fires last year"
Highly criticized for their lack of responsiveness and the weakness of the means deployed to deal with the tragedy, the authorities adopted this year a set of preventive measures. A Beriev Be-200 water bomber has been rented pending the four seaplanes of the same model ordered from the Russian manufacturer and which will not be delivered before 2023, indicates the Ministry of the Interior. The walis (prefects) have been instructed to install additional water points in the main forest areas to allow helicopters to get supplies quickly in the event of an intervention. For its part, the Ministry of Agriculture has put into service a toll-free number to "report any danger" which could cause a fire to start.
Read also Article reserved for our subscribers "This time, it's uncontrollable": in Algeria, the distress of the population in the face of the fires ravaging Kabylia
But this is too little to reassure a population still in shock. "We have experienced many natural disasters: the floods in Bab el-Oued in 2001, the earthquake in Boumerdès in 2003, and last year these forest fires, but it is as if the public authorities were not pulling lesson, regrets Zahir Benkhellat. They are patching things up when we need a new ecological policy in line with current issues. Environmental laws have not changed since the 1980s."
You have 69.94% of this article left to read. The following is for subscribers only.
---