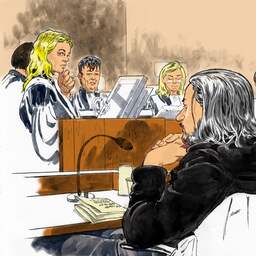 Aydin C. faces a life sentence in Canada. The 44-year-old Dutchman was found guilty on Saturday of possession of child pornography and digital stalking, harassing and extorting Amanda Todd. The girl took her own life in 2012 at the age of 15 after being harassed online by C.
C. has been found guilty five times and will receive a sentence for each crime. The court finds, among other things, proven that he extorted Todd with sexual images (sextortion). In Canada, the maximum penalty for sextortion is life. C. risks a minimum of four years in prison. Harassment of Todd could earn him another between one and 14 years in prison.
Todd's case became world news in 2012 when she expressed her despair on YouTube. The teen told her story using cards with lyrics on them. It can be read that she was blackmailed for years with a photo of her breasts. Two years later, C. was arrested in the Netherlands as a suspect in the case.
Highest possible sentence in the Netherlands
In 2018, C. was sentenced in the Netherlands to 10 years and 243 days in prison for digital stalking and extortion of 33 people. That was the highest possible punishment he could receive. Among his victims were dozens of underage girls. The youngest girls were only nine years old when C. started talking to them.
In December 2020, C. was extradited to Canada. About two months ago, his trial began at the Supreme Court in New Westminster, a Canadian suburb of Vancouver.
C.'s lawyer, the prosecutor and the judge will meet on August 12 to set a date for the sentence hearing. Usually it takes several weeks before the sentence is determined. As part of C.'s extradition, it has been agreed that he may serve his sentence in the Netherlands.
---