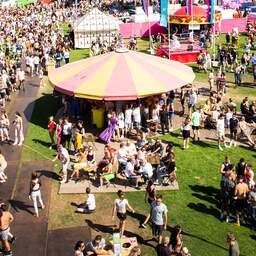 The Rainbow Rave by DJ Paul Elstak is on August 6, 2022 at the Stadsblocks in Arnhem. The construction of the event is in full swing, so it is high time that you as a partygoer also make the necessary preparations. That's why here all useful information about the rave in a row.
The Rainbow Rave by DJ Paul Elstak is on August 6, 2022 at the Stadsblocks in Arnhem. The event site is located at Stadsblokweg at number 01-06. The event starts at 1:00 PM and ends at 11:59 PM.
Please note: you cannot reach this address by car. Below you can read more about transport to the rave.
Do you want to come to the party by car? Then you can. But pay attention to where you park your car. Because the John Frost Bridge is closed, which is the main entrance from the center of Arnhem to the Stadsblocks, you cannot enter the event site by car. Where you can park is:
At Decathlon in the Rijnhal (free). Navigate to Olympus, 6832 EL in Arnhem
At the Mobypark in the Vossenstraat 6
At valet parking Arnhem in the Langstraat at number 10
In parking garage Arnhem Central (under the station, follow the signs P-route)
At the GelreDome at the Transferium P+R at Batavierenweg 25.
Are you dropping someone off? Then do that at the Kiss+Ride. Put Stadsblokweg in your navigation and then follow the yellow route signs with Kiss+Ride on them.
Do you want to go to the party by public transport? Then travel from Arnhem central station with an OV bicycle or bus. Public transport bicycles can be rented in the large bicycle shed. Several buses run from the station. It is best to get off at bus stop De Praets. Also fill in that stop if you have a trip planner used. From there it is a 10-minute walk to the festival site. If you come from Arnhem-Zuid, you can also fill in the bus stop De Monchyplein.
The bus stop that is normally closest, Airborneplein, is because of the closure of the John Frost Bridge not in use.
By bike you can just ride over the John Frost Bridge, so this transportation option is convenient and fast. Make sure that you park your steel steed in the designated places. Traffic wardens show you where to park it. You can also cycle to the event site via the Nelson Mandela Bridge, then you will reach your destination the fastest. From there too, traffic controllers will show you the way to the bicycle shed.
If you go to the Rainbow Rave by foot, then navigate to 'Stadsblokweg'. When you arrive at that point, all you have to do is follow the pedestrian and traffic signs.
There are some things you should not bring to the rave. You can be checked for this at the entrance. Items that are not allowed on the site are:
Deodorant, sunscreen, perfume, hairspray and other pressurized aerosols. Weapons or objects that can be dangerous, for example knives.
If the packages are still closed, they are allowed in: their own drinks or food, drugs such as joints and ecstasy. Cigarettes are allowed.
What you do need to bring is a valid ID and money or your debit card. Also nice if you bring good sense, earplugs and a nice outfit. More information about the rave dress code can be found below.
The organization of the Rainbow Rave in Arnhem sets requirements for what attracts partygoers. But don't panic, you don't necessarily have to put on a glittery suit to get in. on the website simply states that visitors must look neat. There are a few items of clothing that you should avoid because they are not allowed, such as: football shirts, discriminatory or offensive clothing, full colors clothing from motorcycle groups, clothing with insulting or provocative texts on it.
Have you brought along a fabulous jacket that completely matches your outfit, but don't want to carry it around all day? Or do you like to safely store your valuables such as your passport? Then there's good news: lockers will be available during the event. They cost a tenner. You can arrange one on the spot or you can get one book in advance. Saves standing in line again
Once you're inside the gates on the event site, you can't just get rid of it. Or yes, it is possible, but then you have to buy a ticket again to enter. And let all tickets be sold out now! So better not do it.
---