06 Aug 2022 at 10:08 Update: 8 minutes ago
Two wolf cubs have been seen in De Hoge Veluwe National Park, reports de Mammal Society Saturday. Wolves were already roaming the fenced area, but there was no pack yet. It is the first time that young have been seen in the park since the species returned to the Netherlands.By Joost ter Bogt
It is not yet clear who are the parents of the two cubs seen in a photo. The animals may be young from a wolf pair from elsewhere in the nature reserve. The father of that couple is one of the young of a wolf pack that is located in the north of the Veluwe.
The Hoge Veluwe is the area of ​​the Veluwe where people can only enter with a ticket. The area is fenced, but the challenge to circumvent fencing "apparently is not that bad for the wolf", Glenn Lelieveld of the Mammal Association told NU.nl.
In addition to wolves, mouflons also live in the area. These are sheep that did not originally live in the Netherlands. They originate from Sardinia and Corsica, but were introduced to the Veluwe a hundred years ago.
The arrival of the wolf to the Veluwe puts the animals in danger. Wolves hunt it. "Normally mouflons are completely gone six months after the arrival of a wolf. It is quite special that the animal species have been living together in the area for so long," says Lelieveld.
Last year there was a fuss about the arrival of the wolf to the park. The baron of the area, Seger Emmanuel, wants to keep the animals out of the park. He is afraid that mouflons are dying out and that red deer in the area will live more in packs. When that happens, they are less visible to the public.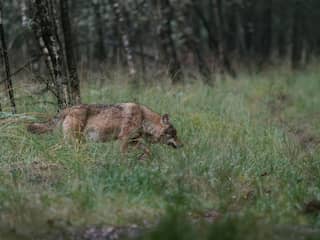 See alsoWolf threatens mouflon in Hoge Veluwe, a matter of taste whether that is bad
Now four wolf packs have been spotted in the Netherlands
It is possible that the animals have been living side by side for a long time, because the sheep stay close to paths. Wolves don't come there that often, says Lelieveld. Whether the animals are more at risk after cubs are also born in the area remains to be seen, he says. "The fact that the wolves have cubs there clearly shows that they like to stay in the area."
The pack is the fourth in the Netherlands since the wolf returned. In total there are three on the entire Veluwe and one outside it. It was recently seen around the border of Drenthe and Friesland, it turned out last Monday.
The Mammal Society calls on visitors to the Veluwe to follow the access rules of the areas to ensure that the cubs are not disturbed. The animals are very sensitive to disturbance in the first months. The presence of people can also make the parents afraid to approach the animals, leaving them unprotected against foxes or other animals.
Image: Getty Images
Read more about:
WolvesInland
---