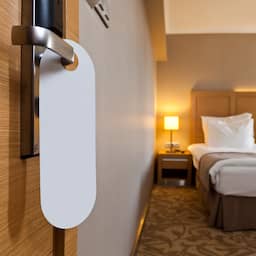 Hotel-restaurant Het Witte Huis in Soest is not yet able to use its main building with restaurant. The municipality of Soest does not want to open it yet, as long as it is still not clear what caused the ceiling to collapse last month.
Fletcher's hotel restaurant on Birkstraat in Soest was closed immediately on Wednesday 13 July after the ceiling in the restaurant came down. No one was injured as most of the guests sat outside or were out and about.
The hotel still receives guests, because there is nothing wrong with the hotel rooms of the adjacent buildings. Only the main building – with restaurant – remains off limits. Guests get their breakfast and other meals at a nearby hotel a few miles away.
"The building is still closed. Fletcher is currently still conducting an investigation. Only when that investigation has been completed, an action plan has been drawn up and tested by the municipality, can we see when the main building can be reopened in phases," the statement said. Municipality of Soest know through a spokesperson. How long that will take is still unclear. Fletcher could not be reached for comment Friday.
---