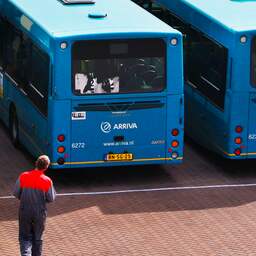 For unclear reasons, the tow truck ended up between the buses at Nijmegen station on 13 July; the car rammed into the superstructure. The load of the tow truck consisted of billboards for the Vierdaagse and Vierdaagsefeesten.
The collision caused the structure to tilt and all the windows between the bus platforms shattered. The screens on the construction also no longer worked.
That evening the entire superstructure was removed. The platforms are now marked with stickers for travelers and bus drivers. The glass between the platforms has been replaced by security fences. Bus transport can continue unchanged.
Three weeks later, the municipality is still investigating the exact damage caused by the accident. According to an employee, the bus station will remain that way for the time being.
"At the moment a damage report is being drawn up and the counterparty is being contacted about this. We do not share details about these types of ongoing cases." The municipality does not say who the opposing party in this case is.
But it is certain that the bus station will have to do without a 'roof' for the time being. "At the moment it is being investigated to what extent the existing construction can be reused. This will take some time, because it is a complex construction. We cannot yet state a term in which the same type of portal can return," said the spokesperson for the municipality.
---