The return of the Canal Parade, the highlight of Pride Amsterdam, went flawlessly and festively on Saturday. Pride spokesperson Martijn Albers speaks of "an edition by the book" and mayor Femke Halsema also saw "a highlight of a great week".
The pandemic put an end to the previous two Canal Parades. This year the boat parade was held for the 25th time. Albers calls this Canal Parade "a liberation". He continues: "It is a special, beautiful and atmospheric edition. People can meet each other again and celebrate who they are."
King Willem-Alexander and Queen Máxima wished everyone present a lot of fun. "We congratulate Pride Amsterdam on this special milestone. We wish everyone with all our hearts the freedom to be who you are and to love whoever you want!"
The police warned this afternoon about local crowds in the center of the capital. For example, the Skinny Bridge was closed, people were urged to avoid the Nine Streets and it was also busy at the Homomonument and on the Vijzelgracht.
The municipality called the crowds "manageable". Traditionally, the Canal Parade attracts hundreds of thousands of visitors. Thousands of people lined the quays, often dressed in striking outfits.
The first boats sailed out of the Oosterdok onto the canal around noon. The eighty boats then sailed onto the Prinsengracht via the Nieuwe Herengracht and the Amstel. The last boats arrived in the Westerdok around 6 pm.
Mayor of Amsterdam Femke Halsema also joined us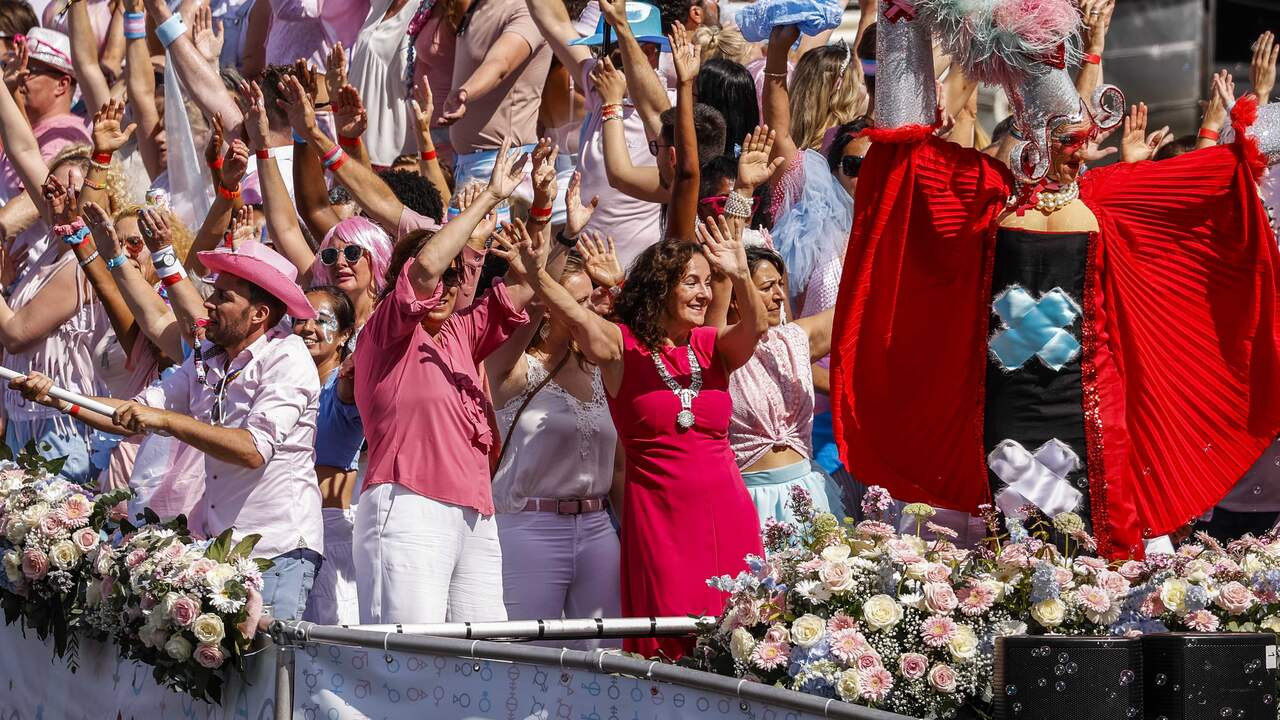 Mayor of Amsterdam Femke Halsema also joined us
Photo: ANP
Jury slightly disappointed in originality of boat parade participants
All eighty participating boats each carried out a message, inspired by the theme 'My Gender, My Pride'. With this theme, the organization calls for extra attention for groups such as transgender people or people who are non-binary.
A jury, consisting of singer Willeke Alberti and newsreader Simone Weimans, among others, assessed the boats for the categories design, message and theme of the Pride. Jury chairman Cornald Maas saw that the substantive message of the boats was fine, "but there were few boats that depicted the theme in an activist way. We expected a little more ingenuity."
Pride Week started a week ago with the Pride Walk, a demonstration for equal rights for LGBT people worldwide. This Sunday the week will be concluded with a 'closing party' on Dam Square.
---