The new Netflix series The Sandman (2021– ) has been available on the streaming service since yesterday. At one time, writer Neil Gaiman's comic books were labeled as impossible to film. The film is now there, but fans of the first minute are not happy. The author gets a lot of criticism for updating the story.
Ruler of the dream world
Netflix's The Sandman is based on the comic books from the 80s and 90s. Author Gaiman was heavily involved in the production of the series. The story is about Morpheus, ruler of the dream world, who has been trapped in the real world for more than a century. Part of the story takes place in the present day.
It has been liberating to have the story set in the present day, although it has caused less change than we thought. The most important thing I've learned over the past 34 years is that we've done a lot of things right. We were already a bit ahead of our time. I find that deeply reassuring. We didn't expect it, but the stories have held up well.

Neil Gaiman
'Too politically correct'
When Gaiman released his comic books, he was criticized for his lack of politics, something that was very popular at the time. Although the series was seen as completely apolitical, according to Gaiman, that is not the case. The author has since been criticized again. Not all readers agree with the creative choices Netflix has made. The series would be too 'woke', overdone in political correctness. The adaptations were made in collaboration with Gaiman by screenwriter Allan Heinberg.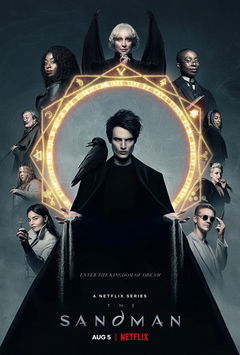 8.3 Watch on Netflix • Film adaptation of Neil Gaiman's popular comic book series 'The Sandman'. Morpheus, the Lord of Dreams, manages to free himself after 105 years of captivity by mortal humans on Earth.
Despite rave reviews
Despite the criticism from fans, the new fantasy series is doing well with critics. On IMDb, The Sandman is awarded with a very positive score of 8.2 and also on Rotten Tomatoes the praise dominates, where the series gets a score of 85%. So the series still seems worth it if we are to believe these figures.
Image: Still 'The Sandman' via Netflix
---