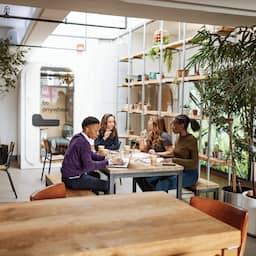 Crowdfunding literally means: getting money from the general public. You tell as many people as possible about your plans and ask if they want to invest in them. But how do you ensure a successful crowdfunding, and is asking for money not inconvenient?
"It felt a bit crazy to ask for money," says 31-year-old Karen Ertrachter. "You would prefer to pay for everything yourself, but I didn't have that financial space." The originally New Yorker has lived in The Hague for 4.5 years and dreamed of a cafe with real New York bagels.
She started an online crowdfunding campaign. And with success: the target of 15,000 euros was more than achieved. In the end, she received 30,000 euros from 75 people, including a few loans.
"I really made use of my existing network and gave various options for donations, such as a refund or reward. For example with a bagel making workshop."
Easy way to raise money
There are four forms of crowdfunding. "Based on donations, a reward in return, a loan in exchange for interest or shares," says independent advisor Bert Wams. According to him, it is increasingly used by entrepreneurs. "They are looking for financing to start or expand their business. This way they are less dependent on the bank."
"It is an accessible way to finance a new idea or product," he adds. "Investors can start from a few tens in. In addition, due to the low interest rate, it can be an interesting alternative to savings."
"Trying to finance your trip around the world is quite different from a medical crowdfunding for the treatment of a disease."
Bert Wams, independent advisor
In addition, Wams sees that people also enjoy investing in a company from a social perspective. "For example, a bakery around the corner or a nice coffee shop that they help realize. Crowdfunding creates a special bond between your company and the people who invest money in it. They often become loyal customers."
So it is socially accepted to start a crowdfunding. "You can see it as a kind of collecting where people choose to give themselves," says Wams. "But it depends on the goal. Trying to finance your trip around the world is quite different from a medical crowdfunding for the treatment of a disease."
You must have a good network
Entrepreneurs start their campaign via an online crowdfunding platform. Director Mark Laagewaard of the CrowdAboutNow platform emphasizes the importance of a personal mission and a network to make a campaign successful.
"People often think it's their private network, but most campaigns are especially successful with a network of fans, customers and partners. You really have to have an authentic story," says Laagewaard. "Tell people what you do and why it's important."
"80 percent of the campaigns launched successfully complete their crowdfunding with us," he says. "The majority of the 20 percent who do not make it, do not succeed in activating a network. The trust from this first group is needed to also reach new people and have them invest."
"We have a crowdfunding going on where we will certainly not achieve the goal."
Marianne Kimmel (50) from Saint Martin
Marianne Kimmel (50) from Sint Maarten also knows that a campaign cannot succeed. "We are running a crowdfunding where we will certainly not achieve the goal," she says. "It is for the Project Speak Now Foundation, which is committed to victims of sexual abuse."
Although she has put time and attention into it, it is difficult to get started. "It's still taboo and people don't like to associate with this topic, so they donate anonymously and the story isn't told." Kimmel was hopeful that the fundraiser would be successful. "It's a shame, but we are still happy with any small amount."
Do you also want to raise money for a good cause or company? These five tips will help you on your way:
Start with a clear and authentic story. This pitch shows what the intent of the project is, what will happen with the money and what the possible rewards or fees are for your investors. Also, don't forget to mention the risks. Always check whether the desired amount is feasible within the planned time. Also calculate the minimum number of people needed for this. An involved online and offline community is very important in crowdfunding. Mobilize your own network first and make sure everyone is informed. Those first investments and possible donations inspire confidence in other people. Use social media to draw attention to your campaign in image and story. Bring people with you who support your campaign. For example, by telling us about the progress you are making. That's how you keep them engaged.
We do not have permission for the necessary cookies. Please accept the cookies to view this content.
---