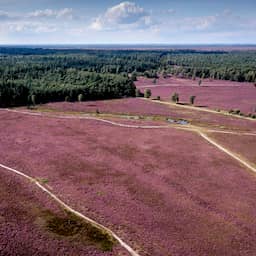 Will the heather on the Posbank near Rheden turn purple again this year? Possibly not. The drought also affects heathland, says Wiebe Borren, hydrologist at Natuurmonumenten.
He warns that the heather does not just bloom. The plant needs water to fully bloom. Because it has hardly rained and it also seems to remain dry in the coming weeks, there is a chance that the heather blooms less or even not at all, according to him.
Purple flower blanket
The heather normally turns purple between the end of August and the end of September. A connected purple flower blanket is then created on the Posbank, draped over the hills. The natural spectacle is so popular that people come from far and wide.
But the question is whether they should travel to Rheden this year. "The heath is suffering from the drought," says Borren. And that is why it is expected that the nature reserve will not be nearly as beautiful as in previous years.
Borren does make a comment, though. "Due to a stress response, heather can also start flowering earlier."
---