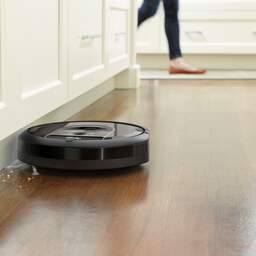 05 Aug 2022 at 15:37
Tech giant Amazon acquires robot maker iRobot for 1.7 billion dollars (1.67 billion euros). The companies announce this in a joint declaration. iRobot is best known for its robot vacuum cleaner Roomba.By our tech editors
Amazon will pay a price of $61 per iRobot share for the acquisition. The company will be incorporated into Amazon Devices. Colin Angle, the current director of iRobot, will retain his leadership position.
The American robot company was founded in 1990 by three members of the Artificial Intelligence Lab at MIT University. Angle was one of those founders, as were Rodney Brooks and Helen Greiner.
In 2002 iRobot became known to the general public thanks to the household robot Roomba. The round vacuum cleaner that sucks the floor without human intervention sold one million units two years after its introduction.
Since then, iRobot has sold more than 30 million household robots. The company not only released several vacuum cleaners, but also, for example, mopping robots.
What future plans Amazon has with iRobot has not yet been announced. The company also makes robots itself. Best known are the robot carts that sort parcels in the company's huge depots.
Image: iRobot
Read more about:
AmazonirobotroombaTech
---