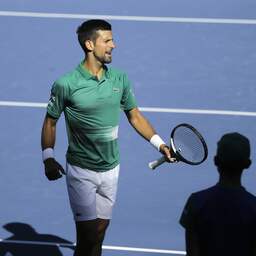 Novak Djokovic withdrew on Thursday just before the draw for next week's Masters tournament in Montreal. The 21-time Grand Slam winner has not been vaccinated against COVID-19 and is therefore not allowed to enter Canada.
The 35-year-old Djokovic was on the entry list for the Masters tournament in case the authorities relaxed the rules. So that didn't happen.
At the beginning of this year, Djokovic was also unable to participate in the Australian Open. The Serb was expelled from the country after a legal battle with the Australian authorities for refusing to be vaccinated against COVID-19.
The former number one in the world was welcome at Roland Garros and Wimbledon. In London he captured his 21st Grand Slam title, one less than record holder Rafael Nadal.
There is a good chance that Djokovic will not be allowed to participate in the US Open later this month, because all visitors in the United States also have to show a vaccination certificate. Despite this, the current number six in the world still hopes to be welcome at the last Grand Slam tournament of the year.
Djokovic won the Masters tournament in Canada, which alternately takes place in Montreal and Toronto, four times. In 2007, 2011, 2012 and 2016 he was the strongest. Last year, Daniil Medvedev captured the title in Canada.
---