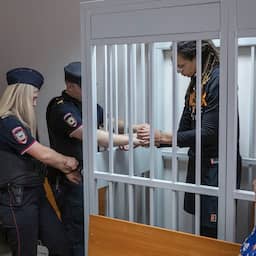 The Russian public prosecutor on Thursday demanded 9.5 years in prison against the American top basketball player Brittney Griner. She was arrested at Moscow airport in February for carrying cannabis oil in e-cigarette refills.
Her lawyer has asked for an acquittal. Griner herself said on Thursday that she was wrong. The prosecutor said during the hearing that Griner had deliberately taken the cannabis oil with him. The American uses the oil in the United States for medicinal reasons, but in Russia this liquid is banned.
Griner denies knowingly breaking the law. "It was my mistake, but I didn't plan this crime. I never wanted to harm anyone or break the law. I hope you don't end my life here with a conviction."
"If the court deems it necessary to punish Griner, then it should be the mildest sentence," her lawyer said during his closing statement. The verdict in the case is expected around 4.45 pm Dutch time.
In court, Griner has apologized to her teammates, parents, siblings and partner.
Griner is one of the best basketball players in the world
The basketball star flew to Moscow early this year, as she would play for the Russian team UMMC Yekaterinburg between the American basketball seasons.
Griner is one of the best basketball players in the world. She has won gold twice in the Olympics and is also a key player for Phoenix Mercury in the WNBA.
If Griner is convicted, there is a chance that she will become part of a prisoner swap between the United States and Russia. Griner and ex-Marine Paul Whelan could then be traded for arms dealer Viktor Bout, who is detained in the US.
The basketball star hopes that all politics surrounding the case will remain "far out of court". "Everyone is talking about politics, but I hope that doesn't play a role in this case."
---