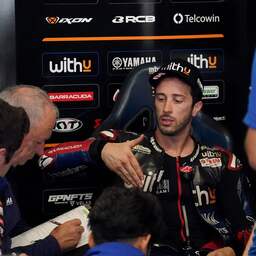 Andrea Dovizioso will retire from MotoGP early next month. The fifteen-time Grand Prix winner announced on Thursday that he will retire after the San Marino Grand Prix.
The 36-year-old Dovizioso also announced at the end of 2020 that he would stop. Less than a year later, the Italian returned to ride for the Petronas Yamaha SR satellite team.
That return was unsuccessful. He has not finished in the top ten once since his return and is in 22nd place in the championship this year after eleven races. Having lost the fun of racing, he will retire after his home race at Misano on September 4.
Dovizioso finished second in the world championship in 2017, 2018 and 2019, each time behind Spaniard Marc Márquez. In 2004 he became world champion in the 125cc class.
Reigning champion Fabio Quartararo tops the MotoGP championship after 11 races. This weekend the drivers will return after more than a month of summer break for the British Grand Prix at Silverstone.
---