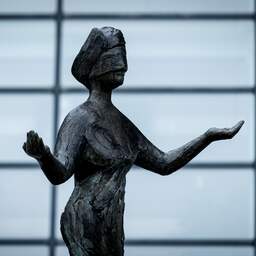 Anti-abortion protesters of the Jesus Lives association were wrongly assigned a different place last year for their demonstration at an abortion clinic in Utrecht. The court in Utrecht ruled this on Wednesday. According to the court, the municipality has not properly substantiated why the activists were not allowed to stand at the clinic itself.
The protesters wanted to park a vehicle with a banner in front of the abortion clinic. Mayor Sharon Dijksma only allowed this at a loading and unloading point about 70 meters away from the Vrelinghuis. According to the mayor, a demonstration at the clinic itself would lead to unsafe traffic situations in which the one and a half meter rule in force at the time could not be complied with.
"In its decision, the mayor only includes the sidewalk directly in front of the abortion clinic and the sidewalk across the street. However, the mayor should also have included the parking spaces on the other side of the street opposite the clinic in the decision," the court now rules.
The demonstration should have taken place on Liberation Day last year between 10:00 and 12:00. Three protesters would remain in the parked vehicle, a kind of ambulance.
The demonstration ultimately did not take place, but the association did go to court.
People could go to demonstration via crossing
The administrative court finds that it has not been shown that an unsafe traffic situation would have arisen. "If people wanted to cross to the ambulance at all, they could do so via the pedestrian crossing." This means that the mayor's decision is "insufficiently motivated" and she has to make a new decision.
"With this ruling, the court does not say that the association can now demonstrate in the parking space in front of the abortion clinic. That decision remains with the mayor."
In several municipalities there is a buffer zone at abortion clinics. Protesters are not allowed to address pregnant women who want to have an abortion in that buffer zone.
In June, part of the House of Representatives, including VVD, PvdA, GroenLinks and SP, said that pregnant women who go to an abortion clinic should be better protected. Minister Ernst Kuipers (Public Health) stated in the debate that he was not in favor of national rules.
---