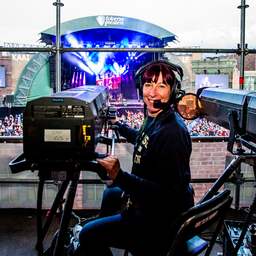 In the summer, many people can take it a bit easier. But there are also Dutchmen who have to work hard in this season. What is their day like? And what do they actually do in the winter?
Singing along with a beer in your hand and dancing at a festival: typically something you do in the summer months. The 51-year-old Els van der Straeten can also regularly be found at festivals. Not to party with, but to make sure everything runs smoothly. One time as a responsible coordinator at the campsite and the other time as a follow spotter to put the bands in the spotlight. "It's exhausting, but it's the best work there is," says Van der Straeten.
As a freelancer she can be found at about ten to fifteen festivals from April to the beginning of September. She recently performed at Rock Werchter in Belgium. "Together with two friends, I am jointly responsible for coordinating the glamping and everything related to it. Managing different teams that are responsible for the sanitary facilities to the catering and everything in between is our responsibility."
Although Rock Werchter lasts four days, she herself stays there for ten days to prepare everything down to the last detail. "I do everything I can so that people can really enjoy themselves once they get there. When guests want something, I make sure it's taken care of. We make dreams come true."
"I always come home exhausted, but I am full of energy."
Els van der Straeten
Snoop Dogg and Golden Earring in the spotlight
She is now busy again for the Lokerse Feesten. There she is not about the campsite, but she is hired as a follow spotter. "That's someone who puts a band, lead singer or artist in the spotlight with a follow spot," she explains. "From a climbing tower, sometimes up to 12 meters high, I follow the lead singer during the show with a bright light."
Name an artist or band and there is a good chance that Van der Straeten has highlighted it. From Snoop Dogg to Golden Earring, 50 Cent and Marco Borsato. "These are artists who perform at festivals and who have a light man who does the show for them. Such a light man then hires me as a follow spotter. We are always with several spotters. One follows the singer, the other does the solo of the guitarist and someone else follows someone in a special suit."
Van der Straeten usually does not know the show in advance. During the performance, she is given instructions on what to do. "You are therefore fully focused throughout the show. I always come home exhausted, but I am full of energy. Especially when 40,000 people have been jumping, singing and cheering under you. That's great. I get a kick out of that."
Light shows in the theater
Also in the autumn she is busy with lighting of shows. But instead of at festivals, she is in theaters, such as musicals, operas and dance performances. "I often do such shows alone. Then I make a lighting plan in advance that I coordinate with the director. I draw on the scale of the theater where the lights should be installed and technicians then hang them up."
The programming of such a light show is largely done in advance. "Good preparation ensures that I press the right button at the right time during the performance. My job is to send the audience home with a magical feeling."
We do not have permission for the necessary cookies. Please accept the cookies to view this content.
---