Only a few days to go and then director Ron Howard comes back with a new disaster film, based on a true story that took place in Thailand in 2018. Thirteen Lives (2022) follows the divers who heroically rescued 12 young football players and their coach at the risk of everyone's lives. Howard went to great lengths to get this story on film as best he could, and who better to help with that than the men who were there in real life? Amazon Prime Video takes us behind the scenes.
It's not the first and probably won't be the last time Howard directs a disaster movie. Nearly three decades ago, his Apollo 13 (1995) went down like a bomb and kept viewers on the edge of their seats for more than two hours. The question is whether Howard will achieve the same result with his latest film Thirteen Lives. In the video below, we see protagonists Viggo Mortensen, Joel Edgerton, Tom Bateman and Colin Farrel being prepared for their roles. Not only does it seem nerve-wracking, but it really was. One of the actors even got stuck, a terrifying moment.
Thirteen Lives is out August 5 seen on Amazon Prime Video.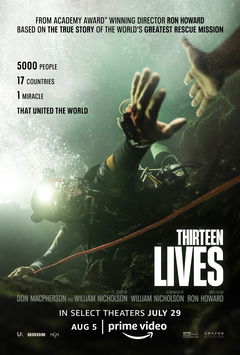 8.3 Watch Prime Video • A rescue mission is organized in Thailand where a group of young boys and their soccer coach are trapped in a subterranean cavern system that is under water.
Image: Still 'Thirteen Lives' via Amazon Prime Video
Text: Amazon Prime Video
---