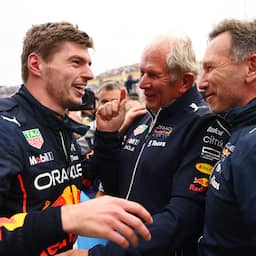 Christian Horner had totally failed to take into account that Max Verstappen would win the Hungarian Grand Prix on Sunday. According to the team boss of Red Bull Racing, even a podium place was not very realistic, after the world champion had only qualified tenth due to engine problems.
"Statistically, if you had taken the data, a fifth or sixth place would have been the maximum achievable," Horner tells us. sky Sports. "But sometimes you just have to forget those numbers and look at the weather and the temperature and listen to the wishes of the drivers."
Horner refers to Verstappen's decision not to start on the hard, but on soft tires. "We actually committed ourselves to a strategy of two pit stops. At the start, Verstappen got a bit stuck in the jeopardy, but after that his speed was phenomenal."
Where Red Bull and Verstappen chose the right strategy, Ferrari went wrong by putting Charles Leclerc on the hard tires at his second pit stop. The Monegask then fell far back. "That was one of the key moments. When I saw that happen, I really thought we had a serious shot at winning."
According to Horner, that does not affect the fact that Verstappen – apart from a spin – finished an excellent race. "This one belongs among his best performances, a phenomenal achievement."
'Nothing is taken for granted'
Although the world champion has a margin of no less than eighty points compared to Leclerc, according to Verstappen and the team boss it is certainly not yet a race. "It looks good and it is very nice to start the summer break like this. But there are still a lot of Grands Prix to go. Ferrari is fast and Mercedes is on the way back. Nothing is obvious," emphasizes Horner.
The Formula 1 season continues on August 28 with the Belgian Grand Prix. A week later, the Formula 1 circus puts up its tents in Zandvoort.
---