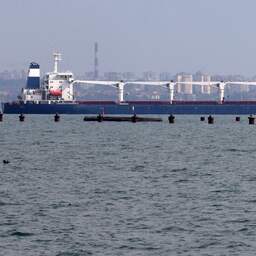 NU.nl regularly gives you an overview of the situation in Ukraine. This time: a Ukrainian freighter with grain has left the port of Odesa today. However, tonight it was announced that the ship has been delayed, for reasons that are unclear. Meanwhile, the Ukrainian army is enjoying success in the south, while the Russians advance in the east of Ukraine.
Cargo ship Razoni sailed into the Black Sea from the port of Odesa on Monday morning. It is the first shipment since the grain deal signed by Russia and Ukraine in July. According to the Turkish Defense Ministry, the ship has been delayed: instead of Tuesday afternoon, the Razoni will only arrive in Istanbul in the night from Tuesday to Wednesday. The ship is expected to be inspected on Wednesday morning. The ship then sails on to Lebanon.
The ministry does not give the reason for the delay. The MarineTraffic website showed that the ship was maintaining an average speed of just 10 knots (over 18 kilometers per hour) on Monday.
On July 22, Russia and Ukraine signed a grain deal with the UN and Turkey. Until then, Russia blocked Ukrainian ports. As a result, Ukraine, one of the world's largest grain producers, was unable to operate grain ships. This resulted in a global food crisis, which particularly affected poor countries. Today the first grain ship could finally set sail since the war broke out in February.
Ukraine seems to be advancing in the south
Meanwhile, the war in Ukraine drags on. In the southern Kherson region, the Ukrainian army claims it has recaptured more than 40 villages from the Russians. Some of the recaptured villages have been "90 percent destroyed" and are "still under constant attack," the region's governor said.
Although the recaptures have not yet been confirmed by Moscow, it appears that the Ukrainians in the Kherson region are making significant progress. The US-supplied HIMARS missile systems in particular prove effective. Those missiles can hit targets very accurately.
For example, the Ukrainian army uses them in the city of Kherson to destroy bridges. As a result, the Russians cannot resupply their troops. That city is still in the hands of the Russians, but British intelligence last week reported that Ukraine may have momentum to make the counteroffensive succeed.
AP news agency also reports that Ukraine has also recaptured parts of the Zaporizhzhia region from the Russians.
Coming weeks decisive
According to an analyst of the Ukrainian army, the Ukrainian offensive is forcing Moscow to spread its forces, writes AP. The Russians are currently mainly concentrating on the Donets basin in the east of the country. Because the south now demands the attention of the Russians, the eastern offensive is further delayed.
The Donetsk Basin consists of the Donetsk and Luhansk provinces. The Luhansk province has been completely conquered, Donetsk is about half in Russian hands.
The coming weeks will determine the further course of the war, AP writes.
---