Disney+ has dramatically ramped up the pace of Star Wars series. It seems only recently that Obi-Wan Kenobi (2022) was released and already a new series is planned, Andoro (2022– ). However, the series does not appear as soon as initially expected, the release has been delayed by three weeks. The first trailer for the series was released this morning. The images can now be seen.
prequel series
Andor is not just a prequel, but a prequel to the prequel. The events of the series predate the events of Rogue One: A Star Wars Story (2016) which in turn are set before the events in Star Wars (1977). Actor Diego Luna will reprise his role as Cassian Andor. In addition, the trailer reveals that we can also expect Forest Whitaker as Saw Gerrera again.
Many Star Wars series expected in 2023
Disney+ will also keep the pace high next year. Several Star Wars productions are expected in 2023, including Skeleton Crew (2023) and Ahsoka.
Weekly Episodes from September
The first three episodes of Andor are out September 21 from that date, the rest of the 9 episodes will appear weekly.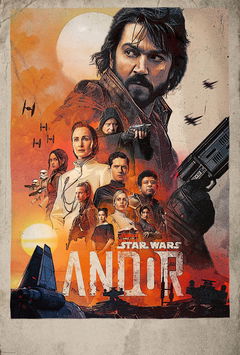 Check out Disney+ • The adventures of Rebel spy Cassian Andor during the Rebellion's formative years leading up to the events of 'Rogue One:
Image: Still 'Andor' via TMDb
Text: Disney+
---