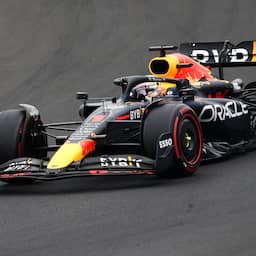 Max Verstappen won the Hungarian Grand Prix on Sunday after starting from tenth place. The World Cup leader worked his way forward in an impressive way, while Ferrari once again made a strategic mistake. Lewis Hamilton came in second, ahead of his Mercedes teammate George Russell, who left pole position.
Verstappen comes with his victory at 258 points. Leclerc is now on 178 points, and mainly saw the drivers behind him come closer, instead of approaching the leader in the World Cup position.
Carlos Sainz finished fourth in the Ferrari, ahead of Verstappen's Red Bull teammate Sergio Pérez. Charles Leclerc had to settle for sixth place.
Verstappen's Red Bull team had the right strategy, with a start on the soft tires and then two stops to the mediums. Ferrari squandered Leclerc's winning chances by letting him use the medium tires twice and finish on the hard tyre.
Leclerc couldn't get the hardest rubber to work, while at that time it was already clear that other drivers hadn't succeeded either. Sainz therefore chose to finish on the red belt, but had to drive it too long to get on the podium.
Hamilton did the same as Sainz, but was able to move to the red belt much later. As a result, the seven-time world champion had the pace to drive into second place in the final phase, including past Russell. He had the same strategy as Verstappen, but not the same pace as the Dutchman.
Small mistake Verstappen costs him nothing
Verstappen made a small mistake during his advance, by spinning after he had just passed Leclerc. The Limburger recovered quickly from this, after which he passed Leclerc, who was struggling on his hard tires, and then drove to victory in a controlled manner.
After the race in Hungary, Formula 1 will have a summer break for three weeks, of which the factories must be completely closed for two weeks. The next Grand Prix is ​​on August 28 in Spa-Francorchamps, Belgium.
---