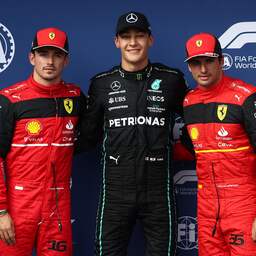 Carlos Sainz (second) and Charles Leclerc (third) were very disappointed on Saturday after their qualifying for the Hungarian Grand Prix. Both Ferrari drivers had pole position up for grabs, partly due to engine problems at Max Verstappen, but the duo was beaten by Mercedes driver George Russell.
"I am not satisfied at all," said 27-year-old Sainz, who was therefore still faster than teammate Leclerc. "I had the feeling that I would not take an easy, but a convincing pole. Unfortunately, the car was difficult to drive and it didn't go the way I wanted."
Ferrari had started the Grand Prix weekend in Hungary energetically and was by far the fastest over both one and several laps during the free practice sessions on Friday. A day later, Sainz and Leclerc were beaten by Russell, who took his first pole position.
"When I crossed the finish line I knew it wasn't enough for pole, but to be honest I was a bit surprised that George was faster," said Sainz. "He really did a great job."
Leclerc: 'Something didn't feel right in Q3'
Leclerc felt in the final qualifying session that he had a problem with his car. "Something didn't feel right in Q3," said the Monegask. "One moment I had a lot of grip and the other moment I had no grip at all. It was even difficult for me to do a lap that was simply okay. It is a lot colder today than yesterday. Maybe we had there better anticipate."
Despite missing out on pole position, Leclerc is looking forward to the race with confidence. "Thanks to our race speed it should be fine," said the number two from the World Cup standings.
"And of course it's not all that bad, but the goal is always to win the race and then it's better to be on pole. From third place that's still possible, by the way, so I'm going to give everything ."
Verstappen did not get further than tenth place at the Hungaroring due to his engine problems. The Hungarian Grand Prix, the last race before the summer break, starts at 3 p.m. on Sunday.
---