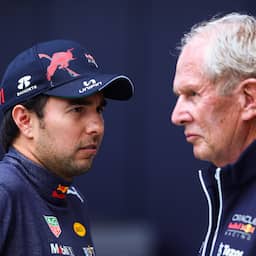 Red Bull CEO Helmut Marko is trying to put Sergio Pérez on edge in the run-up to Sunday afternoon's Hungarian Grand Prix. According to the influential advisor, the 32-year-old Mexican certainly does not get the most out of the RB18.
Pérez qualified only 11th for the race at the Hungaroring on Saturday. According to Marko, that result fits into a pattern: according to him, the Mexican is currently "way too far behind Max Verstappen".
"He was already having a hard time during the training sessions. We should just sit down. The summer break has not started yet, but he already seems to be in holiday mode," a very critical Marko noted in conversation with the German Sky Sport.
"If you are one second slower than Verstappen in the first free practice, then you can't make up for that. We saw that in a few races last year. At the time we were able to turn that around, hopefully we can do that this time. "
Horner predicts busy race for Red Bull
Not only Pérez, but also Verstappen was sentenced to a catch-up race in Hungary on Sunday afternoon. Due to an engine problem, the world champion starts tenth. According to team boss Christian Horner, Verstappen would otherwise have "qualified at least fourth".
"And we certainly would have had a front row chance," Horner told Sky Sport. "Luckily it happened on Saturday and not Sunday. We are tenth and eleventh on the grid, so it will be a busy race."
The Hungarian Grand Prix starts on Sunday at 3 p.m. World Cup leader Verstappen cherishes a lead of no less than 63 points over Ferrari's first pursuer Charles Leclerc. Pérez is third with seventy points less than the Dutchman.
---