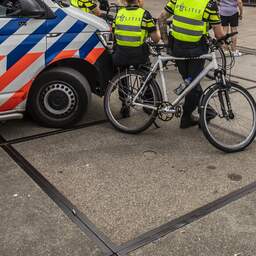 A police officer was assaulted in the city center of Leeuwarden in the night from Saturday to Sunday. He was hit several times in the head and suffered a concussion.
On the Wirdumerdijk, officers spoke to a group on bicycle after a report about a street robbery. An eighteen-year-old woman from Leeuwarden suddenly hit one of the officers on the head a few times. A man from the group also started beating the officer. A second man also intervened in the situation.
The situation was brought under control when more officers arrived. The woman and two men, a 39-year-old resident of Leeuwarden and a 20-year-old Assenaar, have been arrested.
The beaten officer was taken to hospital for a check-up. There he turned out to have a concussion and a large bump.
Police are asking witnesses for information and images of the incident. The police considers aggression and violence against its employees or other aid workers to be unacceptable.
Violence against aid workers is always reported. Perpetrators are brought to court with priority by the Public Prosecution Service (OM). They will be sentenced to three times the punishment.
---