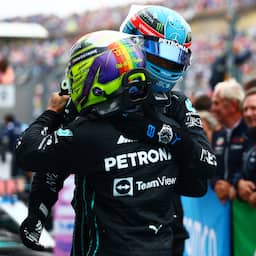 Lewis Hamilton and George Russell couldn't believe their luck on Sunday after their second and third place at the Hungarian Grand Prix. For both drivers, their podium finishes were confirmation that Mercedes has found its way to the top.
"This is very satisfying," Hamilton said at the press conference. "My second place in France was already great, but actually this one was even better. It's great for us that we have finished at race speed in front of two Ferraris. Two Ferraris that have been blazing fast all year."
Max Verstappen, who started tenth at the Hungaroring, unexpectedly took the win. Like both Mercedes drivers, the Dutchman benefited from a failed strategy by Ferrari driver Charles Leclerc, who fell far back into a good starting position after his second pit stop.
Hamilton, 37, eventually crossed the finish line ten seconds behind Verstappen, who was one of the few drivers to start on the soft tyre. "If we had also started on softs, we would have been a little closer to Max," Hamilton continued.
"Maybe we had the potential to win this weekend. George could already start from pole and if I had been closer in qualifying we might have tried something in terms of strategy. But who knows what could be possible in the second half of the season if we continue this form."
Russell: 'May be proud of ourselves'
Russell was far from disappointed afterwards that he was unable to convert his first pole position into a victory. "Actually, a driver who starts from pole and doesn't win is always dissatisfied," he said.
"But to be honest, I don't feel that way at all. This is a fair result and also a good result. We can be proud of ourselves as a team, because we have done nothing wrong. If that is not enough to win, it is so be it. At least we can't blame ourselves."
For Mercedes, which has no chance for both world titles due to a dramatic start to the season, it was the second time in a row that both drivers were on the podium. A week ago in France, Hamilton and Russell also finished second and third.
Russell and Hamilton can enjoy their holiday in the coming weeks. The Formula 1 season will continue on August 28 with the Belgian Grand Prix. A week later, the Grand Prix of the Netherlands is scheduled in Zandvoort.
---