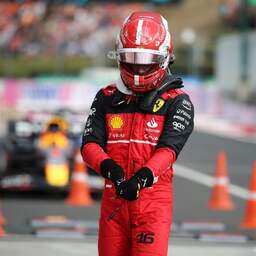 Charles Leclerc was very disappointed with the strategy that Ferrari had devised for him after the Hungarian Grand Prix on Sunday. The Monegask was brought in in the lead for a set of hard tires, a choice he didn't understand. The number two in the World Cup position ultimately did not go further than sixth place.
"I have yet to talk to the team and hear what the thought was about that substitution," said a visibly upset Leclerc in front of the Skysports camera.
Leclerc was six seconds ahead of the Hungaroring on lap 51 when the team ordered him to enter. The Ferrari mechanics screwed the hard tires onto his car, while other drivers could already see that the tire was difficult to warm up in the relatively cold Budapest.
Leclerc also couldn't get the tires to work, after which Max Verstappen even overtook him twice. In the end, the Monegask chose eggs for his money and came in again for a set of softs.
"I said on the radio that it was going well on the medium tires and that I wanted to drive as long as possible," Leclerc recalled the moment the team called him in. "It felt good, I don't understand why we made a different decision."
'My six-second lead was immediately gone'
After Leclerc got the hard tires, his lead disappeared like snow in the sun. "First you lose twenty seconds due to the pit stop, of course, but my six-second lead was immediately gone because I was having such a hard time. After that I couldn't move forward."
During the summer break at Ferrari headquarters, one should discuss the repeated choices that go wrong, Leclerc believes. "Although we have already done that a few times in the first half of the season. But it really has to be better."
Ferrari team boss Mattia Binotto tried to explain his team's choice afterwards. "We knew that the hard tire would be slower initially, but that would only take 10 or 11 laps, then we could make it to the end," he explained. "It was a 30-lap stint. But it didn't work out well, mainly because the car didn't perform as we expected."
---